Best Places to Visit in Japan
Japan is an incredible country to visit. So much so, that I think every corner is the best place to visit in Japan! But before I get carried away, let me clarify that there is a clear hierarchy when it comes to the most popular places to visit.
The route for the first-time traveller is very clear. Most visit Tokyo, Kyoto and Osaka at the very least and throw in a couple of day trips to one or more of these destinations; Hakone, Hiroshima and Nara.
While these are incredible destinations, I also want to encourage you to step off the beaten track, as there are so many other wonderful gems to discover around Japan.
So here's my list of the best places to visit in Japan, from the frequently visited to the lesser-known gems.
The Path Most Travelled
Tokyo
As Japan's capital city and most popular destination, there are countless things to do in Tokyo that will cater to any interest and age bracket. For those who love pop culture, there's Harajuku and Akihabara, the hubs for quirky fashion, entertainment and technology. Along Takeshita Street in Harajuku, you will find licensed merchandise, gothic punk clothing stores, cutesy lingerie stores and dessert stores for every kind of sweet treat. In Akihabara, you'll find huge technology department stores, maid cafes, figurine stores, sex stores, arcades, software stores and retro gaming stores.
For those looking for a more cultural experience, there's the large and beautiful Ueno park, which includes two shrines, two Buddhist temples, six museums, a gallery, a zoo and a reptile park! There's also Yoyogi Park, which includes Meiji Shrine, Kiyomasa's Well and Kakuuntei. And of course, there's the Imperial Palace in Chiyoda, which includes expansive grounds and gardens that surround the building.
For the shopper and the foodie, there's much to entertain in Shibuya and Shinjuku. As soon as you exit Shibuya Station, you are met with possibly the most famous sight in Tokyo, Shibuya Crossing. The streets branching from this crossing have everything from a mega Don Quijote, Uniqlo and the Disney Store, to Shibuya 109, H&M, Tokyu Hands, Daiso, Animate, Mandarake, Zara and The Body Shop. When you're feeling peckish or in need of a drink, head to Shinjuku's Robot Restaurant (dinner and a show!), Omoide Yokocho (Memory Lane/Piss Alley) and Golden Gai.
Check out my blog post for more ideas on things to do in Tokyo.
Kyoto
As the unofficial cultural capital of Japan, Kyoto is your number one destination for discovering Japan's rich history. There are many other famous sites to see in Kyoto, such as Arishiyama Bamboo Grove, the Kimono Forest, Fushimi Inari Taisha, the Golden Pavillion, Kyoto Imperial Palace, Gion and Kiyomizu-dera.
The city is chock full of tourism companies that host authentic Japanese experiences for you to enjoy. You can dress in a kimono, attend a tea ceremony, have a ninja experience, witness a geisha dance, attend a sumo match and so much more! Although I'm not usually a fan of tours and organized activities, the ones I booked in Kyoto were wonderful and added an extra depth to my experiences as I learned the history behind each of their sacred traditions and gathered deeper respect for the significance of Kyoto's most famous sights.
One thing to watch out for in Kyoto is the crowds. Most people tend to visit in cherry blossom season when the city is at its most beautiful, however it simply wasn't built to hold that many tourists at any one time. When you are in Kyoto, please remember that it is a sacred place and to remain respectful of the places and people around you.
Check out my blog post for more ideas on things to do in Kyoto.
Osaka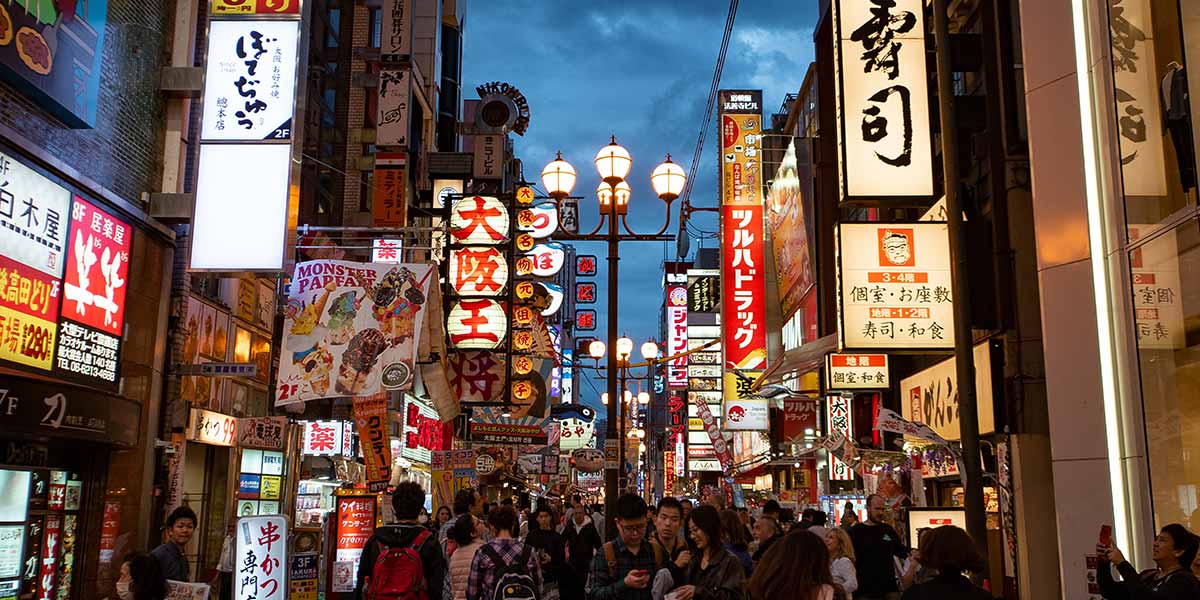 Osaka is best known as the kitchen of Japan, so tie on your bibs and get ready for some incredible food! Street food is the most common of all of Osaka's specialties, including takoyaki, yakitori and kushikatsu, but they are also famously known for their okonomiyaki, yakiniku and fugu. Dotonbori is the best place to try all these cuisines, so make sure to visit early in the night with an empty stomach!
Branching off Dotonbori are some of Osaka's most famous shopping streets, or shotengai, including Shinsaibashi, Ebisubashi and Sennichimae Doguyasuji, while close-by you also have the longest shopping street in Japan, Tenjinbashisuji Shopping Street. If that isn't enough for you, you also have a few major shopping malls located around Osaka Station including Osaka Station City, Grand Front Osaka, LUCUA Osaka and HEP FIVE as well as themed shopping areas like Den Den Town (the otaku's dream) and Americamura (which sells American themed clothing, toys, homewares and accessories).
If you're looking for more, make sure to check out Osaka's nightlife. Start your night at Dotonbori and marvel at the neon signs lining the river, have something for dinner and explore the surrounding streets for many bars, nightclubs, strip clubs and other establishments catering to after-dark entertainment.
Check out my blog post for more ideas on things to do in Osaka.
Hakone
Hakone is located in between Tokyo and Mount Fuji and is easily accessed via a 60/100-minute (shinkansen/local) train ride from Tokyo. Depending on your schedule, most people visit Hakone as a day trip from Tokyo or take advantage of the beautiful ryokans found in the city and stay the night.
The usual sightseeing circuit around Hakone starts at Hakone-Yumoto Station. Check out an art museum such as the Okada Museum of Art or the Hakone Open Air Museum and make your way to the Hakone Ropeway to Owakudani. Here, you will see its beautiful (yet stinky) hot springs as well as the famous black eggs. Don't let the other gift stores fool you, this is the only place in Hakone where you can buy the authentic black eggs, so make sure to pick some up to try while you are there! It's said that eating them adds 7 years to your life!
Next, you'll make your way back to the Hakone Ropeway and travel down towards Lake Ashi. If you're lucky, you will see Mount Fuji peeking out of the skyline during this trip. Unfortunately, Mount Fuji likes to hide to it's tough to catch a glimpse unless it's a very clear day. Once you're on the shore, get on the pirate ship and take a lovely sightseeing cruise along Lake Ashi to arrive at Moto Hakone Port. From here, you will be able to access Hakone Shrine and take that famous photo with the torii gate next to the water.
When you head back to Hakone-Yumoto Station, make sure to check out the stores running along the street. There are many souvenirs to browse and omiyage (food souvenirs) to try that are unique to Hakone. I especially enjoyed the cheesecake one of the stores were offering!
This is a super full day, so if you have the time, I recommend breaking it into a couple of days so you can see everything without rushing. There are also some other sights to see that I didn't even mention, such as the Little Prince Museum, Gora Park, the Hakone Venetian Glass Museum and Tenzan Onsen. Hakone is one big onsen, so having the extra time to add a night-time soak to your day will be the perfect way to wash away those traveller's aches and pains.
As for the nature lovers, you can skip all these sights and dedicate your time to explore Hakone's hiking trails for an even better view of Mount Fuji. Hiking trails with the best views include Mount Kintoki, Mount Myojingatake, Mount Mikuni, and Mount Marudake.
Nara
Nara is the most popular day trip destination from Osaka and Kyoto, most famous for the many deer that call Nara Park home as well as the giant Buddha that lives in Todaiji Temple. Conveniently, most of the city's best attractions are in or around the park, including Kōfukuji Temple, Nara National Museum and Kasuga Grand Shrine. When you're finished with the park, head back along the main street and visit Higashimuki Shopping Street for amazing food and all of the deer-related souvenirs your heart desires.
Hiroshima and Miyajima
Hiroshima is most well known as the first city to be destroyed by an atomic bomb. Hit during WWII on August 6 1945, Hiroshima has since rebuilt and recovered to not only become a thriving modern city, but also a constant reminder to its visitors of the importance of peace and the devastation of war. Hiroshima's Peace Memorial Park is the most visited attraction, being the home of the Peace Memorial Museum, which outlines the history and ongoing effects of the bomb, various statues dedicated to peace, many memorials and monuments dedicated to the victims of the atomic bomb and the iconic Atomic Bomb Dome, one of the only structures to survive the bombing. It is both sombre and heartbreaking taking in the sights and learning about events that led to and preceded the bombing. I will never forget a photograph I saw at the museum depicting a dozen or so new orphans praying just hours after the bomb had hit.
On a lighter note, there is also much to enjoy in Hiroshima, such as the delicious Hiroshima style okonomiyaki, Hiroshima Castle, Shukkeien Garden and Hiroshima Toshogu Shrine (not to be mistaken with Nikko's Toshogu Shrine, also dedicated to Tokugawa Ieyasu). There is also the well known Miyajima Island located close by, where Itsukushima Shrine and its famous floating torii gate can be found, as well as Momijidani Park, Daishoin Temple and Mount Misen Observatory. The island has bustling shopping streets that lead from the pier to Itsukushima Shrine that sell pretty much any souvenir you could think of, incredible food and yummy desserts. If you're lucky, you will also come across the deer that live on the island. There aren't as many as in Nara Park, but they're eager to meet you and steal your food!
Off the Beaten Track
Hokkaido
Hokkaido is one of my favourite places in Japan. Unlike most of the country, Japan's northernmost island and prefecture is an absolute joy to visit all year round and offers some of the most incredible seasonal experiences in the country. From December to March, Hokkaido transforms into a winter wonderland, with locals showing off their creative chops with the Sapporo Snow Festival and hosting snowboarders and skiers alike to enjoy some of the best powder snow in the world. In spring, we start off with cherry blossom season and lead into blooming season for the breathtaking flower fields located mostly in Furano. In summer, Hokkaido enjoys a more pleasant heat with none of the humidity that plagues most of Japan, which allows you to take leisurely coastal drives to see beautiful sights such as the Shakotan Peninsula and to hike amongst lush foliage at Rishiri-Rebun-Sarobetsu National Park. Finally, in autumn we have the incredible koyo leaves that decorate the trees with lush orange, red and yellow leaves, which is best seen whilst you take a leisurely soak in one of the bathhouses at Jozankei Onsen.
These experiences are just the tip of the iceberg for what there is to see and do in Hokkaido. Many people come here to enjoy the incredible seafood they have and to explore the fishing towns. Others come to learn about Hokkaido's indigenous people and connect with their culture. And some just want to experience the incredible local foods, such as ramen and soup curry.
What I love most about Hokkaido is that it is so different from the rest of Japan. Even locals say that visiting Hokkaido and Okinawa feels like visiting an entirely different country. In that sense, it's such a joy to uncover the many different facets that make up Japan and to truly discover what makes it such an incredible destination.
Check out my blog post for more ideas on things to do in Hokkaido.
Koyasan
Koyasan, or Mount Koya, is a sacred town dedicated to the practice of Shingon Buddhism. The worship site was founded in 826 when Kobo Daishi, one of the most important figures in Japan's religious history, started to build Danjo Garan Temple. This small town is now home to hundreds of Buddhist temples and the most famous and sacred cemetery in Japan, Okunoin. The cemetery is the final resting place for many of Japan's most important historical figures, from monks to shoguns, including Kobo Daishi himself. It is said that he remains there in eternal meditation as he awaits the Buddha of the Future.
Koyasan is most popular for its temple accommodations where guests may live like monks, sleep on temple grounds and participate in religious activities such as morning services, meditations, sutra copying and the Jukai Ceremony. As part of the experience, you will stay in tatami rooms, bathe in onsens and be served vegetarian meals called shojin ryori.
Koyasan is an important sacred site, so it is very important to be respectful and demure while you are there. The town attracts many pilgrims on important religious journeys, and you will be interacting with real Buddhist monks, so you must ensure you are courteous and do not disrespect or interfere with their prayers and rituals. Due to this, I only recommend Koyasan to honeymooners and older travellers. Many western and eastern travellers visit Koyasan to engage with Buddhism, pay their respects to those who have passed and to view the beautiful scenery along the mountain's hiking trails. Thankfully, tourism in Koyasan has remained respectful and of a manageable level, something I hope is maintained in future.
Nikko
Nikko is another sacred Buddhist site, albeit a bit more accessible and touristy than Koyasan. Most visit Nikko as a day trip from Tokyo to see its UNESCO World Heritage Temples and Shrines; Toshogu Shrine, Rinnoji Temple and Futarasan Shrine. The town is also well known as one of the best places in Japan to see the autumn leaves (koyo) and is home to one of the most famous waterfalls in Japan. In short, if you're into nature and religious sites, Nikko is the place to be.
Nikko's sacred site spans the whole of Nikko National Park, including its three mountains; Mount Nantai, Mount Nyohou and Mount Taro. Traditionally a place of mountain worship, the founder of Nikko, Shodo Shonin, built many places of worship around Nikko's mountains and Lake Chuzenji dedicated to the Buddhist gods associated with each mountain. After the Tokugawa clan came into power in 1603, shrines and mausoleums were added to the area to immortalise both the founder of the Tokugawa shogunate and his grandson. These structures are much more elaborate than the buildings Shodo Shonin built, so you will easily be able to distinguish between the different styles when you visit.
Although they may not be as historically significant as their man-made counterparts, the natural sights in Nikko are truly a sight to behold. The most famous natural sights are Kegon Falls, Ryuzu Falls, Yudaki Falls, Lake Chuzenji, Chuzenji Onsen and Kanmangafuchi Abyss. Then for the hiker, there are many hiking trails to enjoy in Nikko National Park that loop through Nantaisan, Nyohousan and Tarosan.
Check out my blog post for a complete guide on how to plan a 2 day trip to Nikko.
Okinawa
I've saved the best for last!
Okinawa is a prefecture located at the southwestern corner of Japan that encapsulates over 160 individual islands that span from the Kagoshima prefecture to Taiwan. Affectionately known as the Hawaii of Japan, Okinawa's subtropical climate makes it the perfect destination for beach hopping, snorkelling, diving and sunbathing.
Naha is Okinawa's main city and is located on the largest island in the prefecture. Interestingly, this island has the highest amount of fluent English speakers I've seen in Japan (yes, more than Tokyo too!) because of the large American settlement on the island. After many army bases were built there at the end of WWII, America took control of the prefecture and used these bases to govern Okinawa up until 1972, when the control was given back to Tokyo. These bases are still active today and are now run by 30,000 active members of the American military who, with their families, make up the 80,000 Americans who call Okinawa home.
Due to American influence, Okinawa's main island is probably the most westernised region of Japan. Not only does the island copy much of America's architectural style, but there are many areas where you almost need to do a double-take to remember you're in Japan. There are many outdoor shopping centres in Naha that remind me of the complexes built in America that house your local Ulta, Walmart and TJ Maxx. There's also a whole shopping area and entertainment district called the American Village, which was specifically built to emulate American theme parks and outdoor malls to combat the homesickness their soldiers felt. It may not be very Japanese, but it's still a really fun place to visit on your travels.
When visiting Okinawa, I suggest starting off with the main island, renting a car, and driving around to all the different sights and beaches so you can dabble in the American culture, the indigenous Okinawan culture and then relax at a local beach. The main island is home to the famous Okinawa Churaumi Aquarium, which is an absolute must-see due to their giant whale sharks alone. After that, I suggest jumping onto a few ferries to visit the more remote islands of Japan to experience the most beautiful beaches without the suffocating crowds.
If the weather is looking great and the sun is out in full force, I also suggest staying on Ishigaki Island so you can visit Kabira Bay and Taketomi Island. Kabira Bay is probably the most beautiful beach I have ever seen, and on Taketomi Island you can take a relaxing water buffalo ride through the village. Although I cannot recommend Ishigaki Island enough, I encourage you to keep a keen eye on the typhoon forecasts for this area. Okinawa is hit by around 8 typhoons per year, so while you will most likely be completely safe, there's not a lot to do in Ishigaki if you are stuck inside because of the wind and rain.
Although Okinawa does not offer the quintessential Japanese experience, it is undoubtedly one of my favourite destinations in Japan. I am happiest when I have sand in between my feet and waves lapping at my ankles, so Okinawa is truly an embodiment of my two great loves in one.
–
Where are you thinking of going on your rip to Japan? Have you decided to go to any of the destinations I've mentioned? Make sure you let me know in the comments below!
Pin post for later: