2 Days in Nikko: A Complete Guide
Nikko is a small town located about 2 hours north of Tokyo's city centre. It is most well known for its World Heritage temples and shrines, stunning national park and relaxing onsens. Whether you prefer to learn about Japan's history, hike through the wilderness or relax in a luxury hotel, Nikko has something for you.
As one of the most beautiful towns you will see in Japan, I highly recommend stopping by Nikko on your travels. Even if you are not a hiker or a particularly outdoorsy person, Nikko's many temples, shrines, waterfalls and historical sights are the perfect antidote to the hustle and bustle of Tokyo. The relaxing atmosphere, stunning natural beauty and awe-inspiring shrines has made Nikko one of my favourite destinations in Japan.
So now that you've decided to visit, where should you go? And when? Keep reading for my complete guide on things to do when in Nikko!
What time of year should I go?
The best time to visit Nikko is between April and November, especially during the autumn months (September, October, November).
This small town is a popular tourist destination, with crowds gathering most prominently in autumn (September, October, November) to see the incredible koyo (rich autumn leaves). Seeing the koyo in Nikko is a must, so you will be able to avoid the worst of the crowds by going early or late in the season and visiting on weekday mornings.
Japan monitors the timing of the koyo just as meticulously as the cherry blossoms, so make sure to do your research to see when the leaves will be on display. I recommend using a Japanese website such as this one to determine your dates (if you use chrome, it will automatically translate it for you). Thankfully, the koyo are on display for a lot longer than the cherry trees, so you have a wider window to plan your trip.
Personally, I visited in late winter (late Feb/early March), which had its pros and cons. The world heritage sites in Nikko were a bit busier than expected considering the time of year, but this speaks to the beauty and uniqueness of the temples. Okunikko, however, was largely deserted, with many sites and restaurants being closed for the winter season. Thankfully, this wasn't a problem for me at all! I still got to enjoy Nikko's famous yuba and found it very relaxing to explore the area without many people around.
Late March signals the start of cherry blossom season for most of Japan, so the influx of tourists over the March/April period sees an increase in crowds. I have not been to Nikko during this time of year myself, however, I imagine that tourists would take advantage of their trip to Japan to see a range of sights and not just focus on the cherry blossoms. The busy-ness of the area will be directly related to the blooming schedule of the blossoms. The closer to full bloom it is, the busier it will be. You can track the blooming schedule here.
May and June is a fantastic time to visit Nikko, as flowers such as the wisteria and hydrangea come into bloom (and there are plenty of stunning places in Tochigi to see these flowers while you're in the area!), however, I must warn against summer. July and August can be extremely humid in Japan, making sight-seeing very uncomfortable on days in the high 20s (in celsius) and above. Please also make sure to watch out for Japan's typhoon season in August and September.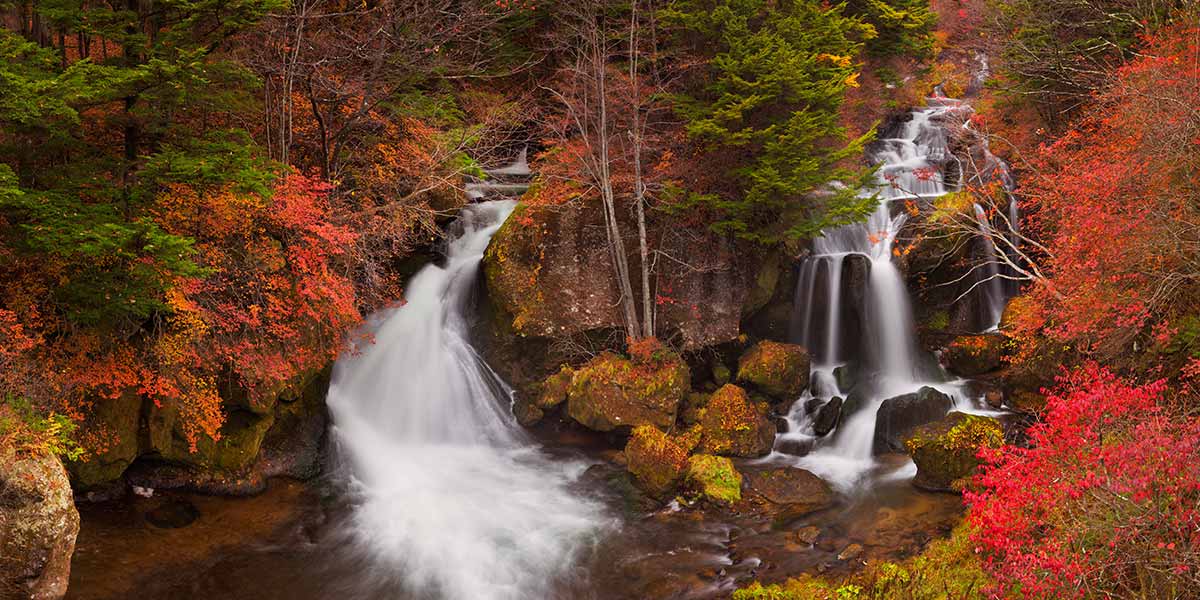 How long should I stay there?
I recommend staying in Nikko for three nights, with two full days to explore. There are many other things you can do with more time, so if you're eager to explore Nikko in detail, then you could also easily find things to do for 5 or so days.
Getting there
The fastest way to get to Nikko from Tokyo is to take the Shinkansen Yamabiko 125 to Utsunomiya and transfer to the JR line for Nikko. This will get you to Nikko in about 1 hour and 50 minutes and will cost ¥5,060 for an unreserved seat.
The cheapest way to get to Nikko from Tokyo is to take three trains, from Tokyo to Ueno, Ueno to Kita-Senju and then Kita-Senju to Tobu-Nikko (Nikko and Tobu-Nikko stations are very close together – about a 5 min walk). This will get you to Nikko in about 2 hours and 10 minutes and will cost ¥3,030.
For more information on your specific trip, check out Hyperdia.
How do you get around Nikko?
If you are staying within the usual tourist area of Nikko, then the best way to get around is by bus. If you are wanting to stay at any of the onsens or explore the wider Nikko area, then you will need to rent a car.
There are no trains in the area, bikes are too expensive to rent and are not practical considering the terrain and distance between some sights.
BUS
As soon as you arrive, go to Tobu Nikko Station Tourist Information Center and have a chat to them about your travel needs and they will be able to recommend the best bus pass for you. Their staff are lovely and speak English so you will have no problem asking them what your options are.
If you are only planning to visit Nikko for the day, then an all-inclusive pass will probably not be with it for you, but if you plan to explore Okunikko, then it is definitely worth your while. There are a few options, but the one I purchased covered two days for ¥2,000. You can find out more information on the Nikko buses here.
The staff gave me the bus timetable and a map where they marked out which areas the bus pass covered, and which places would cost me an extra fee to visit. This map was extremely useful, and I referred to it a lot during my travels. Thankfully, the bus stops are very easy to find as they are marked by large, cream and brown signs displaying the bus stop number and its related timetable. Quick tip: sometimes when I arrived my destination, I would take a photo of the bus stop I needed to go to next so that I could easily see when the next bus would arrive. I found this a bit simpler than looking at the bus timetable booklet and scanning the pages for the right stop and the right direction.
CAR
If you want to stay at some of the less central onsens, or explore more of Lake Chuzenji and Nikko National Park, then I recommend renting a car for your stay.
Right next to Tobu-Nikko Station there's Hertz Car Rental and Nippon Rent A-Car Tobu Nikko Station Branch.
Things to do
Day 1: Nikko
1. Shinkyo Bridge
Shinkyo Bridge is one of the most popular sights of Nikko and marks the entrance of Nikko's World Heritage temples and shrines. This bright vermillion structure is part of Futarasan Shrine, so it is actually a sacred cultural property rather than a normal bridge. Its exact origins are unclear, however the caretakers of the shrine share a legend of a monk named Shodo who came to Nikko in 766AD to teach Buddhism. Stopped by the rapid waters of the Daiya River, the monk lit a holy fire and asked for divine help. A god appeared and created the bridge out of two snakes so that monk Shodo could pass and establish Rinnoji Temple nearby.
The first official documentation of the bridge relates to a renovation ordered by the 3rd Shogun of the Edo Period (Tokugawa Iemitsu) in 1636. The structural and aesthetic properties of the bridge have been kept the same since then, although the bridge has seen many renovations and repairs over the years, including a complete rebuild in 1902 and an 8-year renovation that was completed in 2005.
As it is a cultural property, there is an entrance fee of ¥300 to walk along the bridge. There is only one entry and exit point, so you will need to walk back the way you came and continue along the normal road to reach Rinnoji Temple (ironically meaning this bridge isn't even used as a bridge).
I paid to go onto the bridge, but I don't think it is necessary for you to do the same. The best view of the bridge is from the adjacent road, which you will walk through anyway on your way to Rinnoji Temple.
2. Rinnoji Temple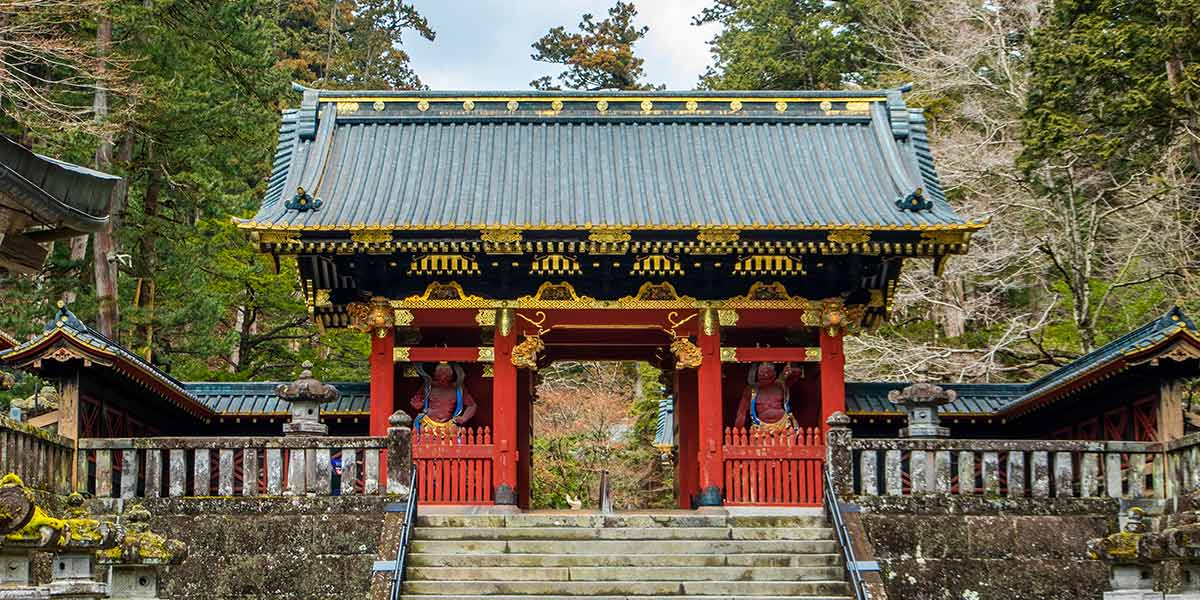 When you are finished at Shinkyo Bridge, cross the road at the traffic lights and you will see a large rock saying "World Heritage Shrines and Temples of Nikko" (look closely, it is very faint). The large staircase behind this stone will take you to Rinnoji Temple, however please be careful on your ascent. There are a lot of stairs and a steep hill awaiting you at the top!
Rinnoji Temple is comprised of Sanbutsudo Hall (main temple), the Treasure Hall, Harukaen (Japanese garden), Jokyodo (treasure building/dojo), Daigomado (secondary hall), and Taiyuin (mausoleum of the Tokugawa Iemitsu). Sanbutsudo Hall is the largest wooden structure in Nikko and houses statues of the original Buddhist gods of Nikko's three holy mountains (Mount Nantaisan, Mount Nyohousan and Mount Tarosan). These golden statues are a sight to behold at almost 8 metres in height! The main hall also includes a booth for goshiun, so make sure to collect your stamp on the way out!
Just behind the main hall is Daigomado, where you will be able to see another sacred worship space and purchase items from the temple store. After, loop back to the entrance of Sanbutsudo Hall where you will find Harukaen and the Treasure Hall opposite the main ticket booth. Personally, I would give these two a miss. There's a lot to see in Nikko's World Heritage area that's much more interesting.
Taiyuin is the mausoleum of Tokugawa Iemitsu, the Third Shogun of the Edo Period. He is responsible for refurbishing Toshogu Shrine and Shinkyo Bridge to the elaborate masterpieces we see today and is part of the influential Tokugawa clan, a powerful samurai family who led Japan during one of the most prosperous times in modern history. Taiyuin is built in the same architectural style as Toshogu but was designed to be of lesser importance. Tokugawa Iemitsu highly respected his grandfather and saw to it that his mausoleum would not surpass the grandeur of what he had built to honour him.
Make sure to leave a few hours to explore Rinnoji Temple. The buildings are quite spread out and there is a lot to see!
For a more in-depth look at Rinnoji Temple, you can read my dedicated blog post here.
3. Toshogu Shrine
Toshogu Shrine is dedicated to Tokugawa Ieyasu, one of the most significant figures in Japan's history. After coming to power in 1600, the Emperor formally recognised his affluence in 1603 when he named Ieyasu the Shogun (military/samurai leader of Japan), thus marking the beginning of the Edo Period.
Toshogu is one of the most elaborate, expensive and intricate shrines in Japan. When you first arrive, you will be met with a large torii gate and striking five-story pagoda before you walk up the steps and into the main entrance. As you walk through, make sure to look out for Kikazaru 🙉, Iwazaru 🙊 and Mizaru 🙈. Toshogu Shrine is the birthplace of the famous "Hear no evil, speak no evil, see no evil" monkeys, which can be seen on top of the stables to the left of the walkway. Make sure to also look out for the "imagined elephants" on the storehouse and for the sleeping cat on Sakashitamon Gate.
Yomeimon Gate marks the entrance of the main shrine. This elaborate archway is made up of 508 different carvings of dragons, flying horses, a variety of birds and other mythical animals as well as people celebrating and playing instruments. The structures inside the main shrine match its opulence and grandeur, so take some time here to marvel at the stunning and unique architecture. Its likeness cannot be seen anywhere else in Japan.
If you are a collector of goshuin, you can purchase your stamp at the main shrine. I suggest doing this as soon as you can as there is usually a waiting time of about 10 minutes or more, depending on how busy it is. Toshogu's stamp is a little pricier than usual at ¥500.
WARNING: you need to climb 207 steps to reach the next section, so if you have health problems that will inhibit you, please stop here.
Next, pass through Sakashitamon Gate to make your way up to the inner shrine and mausoleum. It is interesting to compare the opulence of the main shrine to the simplicity of the inner shrine. It is a testament to Ieyasu that his grandson went to such lengths to build a shrine he felt was worthy of his legendary grandfather.
Without knowing the history, it is easy to mistake the mausoleum as boring and dull compared to the rest of the shrine, however, once you realise that one of Japan's most influential leaders is buried right in front of you, it really makes you think about the significance of where you are.
For a more detailed rundown of Toshogu Shrine and its history, check out my blog post here.
4. Stone Lantern Walkway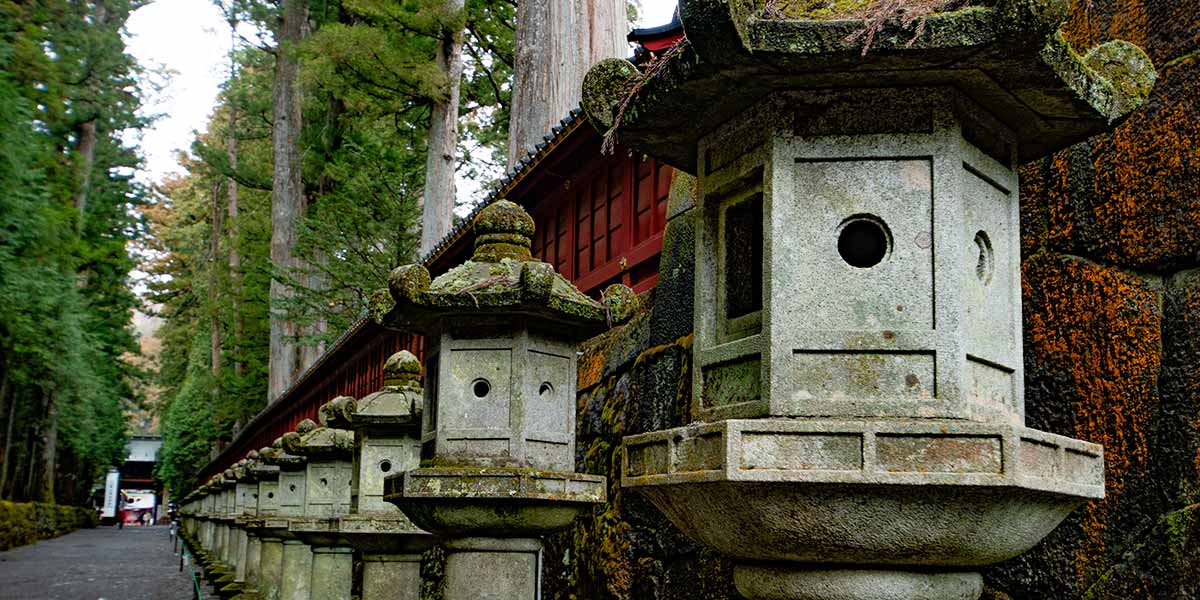 In between Toshogu Shrine and Futarasan Shrine is a beautiful lantern walkway. There's not much to say about it other than it's a perfect photo op in between shrines and is a lovely and peaceful transition from one shrine to the next.
5. Futarasan Shrine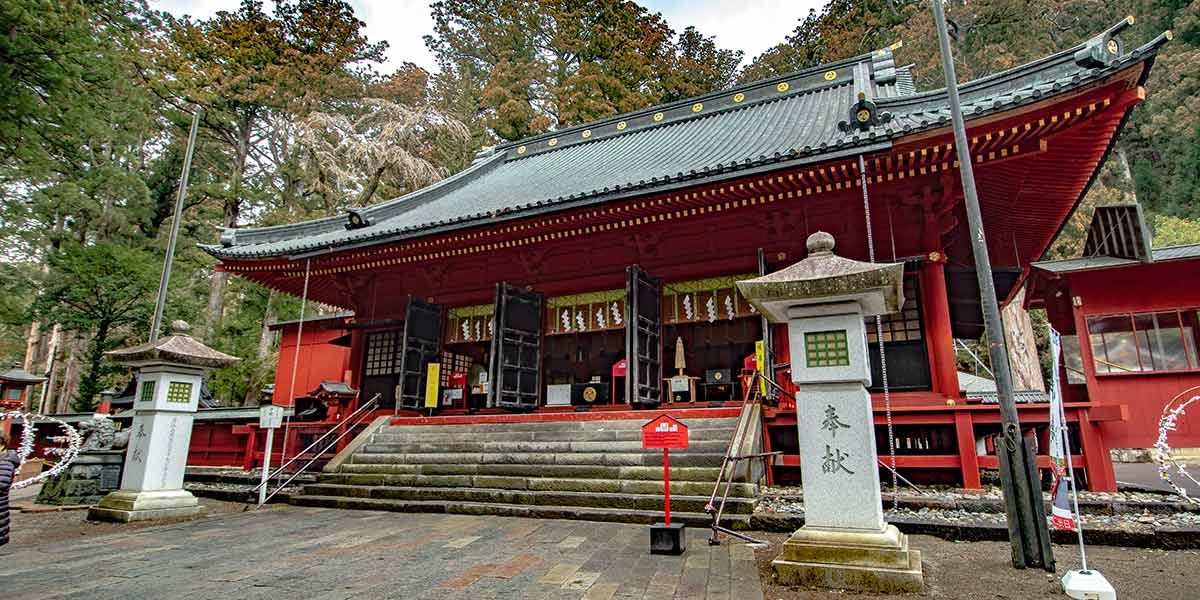 Futarasan Shrine is the final World Heritage shrine we have to discuss. Founded my Shodo Shonin in 782, Futarasan deifies the most notable of Nikko's three holy mountains, Mount Futarasan, now known as Mount Nantai (Nantaisan). Futarasan's grounds span the whole area of the mountains inside Nikko National Park, so it is seen as the main shrine for mountain worship and the protector of the area.
Futarasan includes a shrine located in Okunikko, at the base of Mount Nantai, which I will discuss later on in this post.
Futarasan Shrine is most well-known for those seeking a partner/marriage, pregnancy, a safe birth or general good luck.
6. Nikko Maruhide Shokudo Main Store
All of that temple hopping is sure to leave you with a large appetite! Thankfully, there are many restaurants and tourist stores that surround the temples, closer to the main road. When I finished at Taiyuin, I walked down the road and was met by Nikko Maruhide Shokudo. As soon as I started viewing the plastic food options, the owner came outside and offered me a discount on everything they had in the store. Naturally, I entered the restaurant and ordered. I never expected that the ramen I was served would end up being my favourite meal in Japan!
This is their Yuba Cino Ramen, a salty, chicken broth topped with yuba, garlic and vegetables. The Italian in me was super excited to have a chicken-based ramen using my favourite Italian flavours. It's like this ramen was made for me!
The restaurant also serves a special tomato ramen and more traditional yuba ramen, as well as different soba and udon options. I cannot recommend this restaurant enough, so I hope you give it a try on your travels!
7. The Souvenir Stores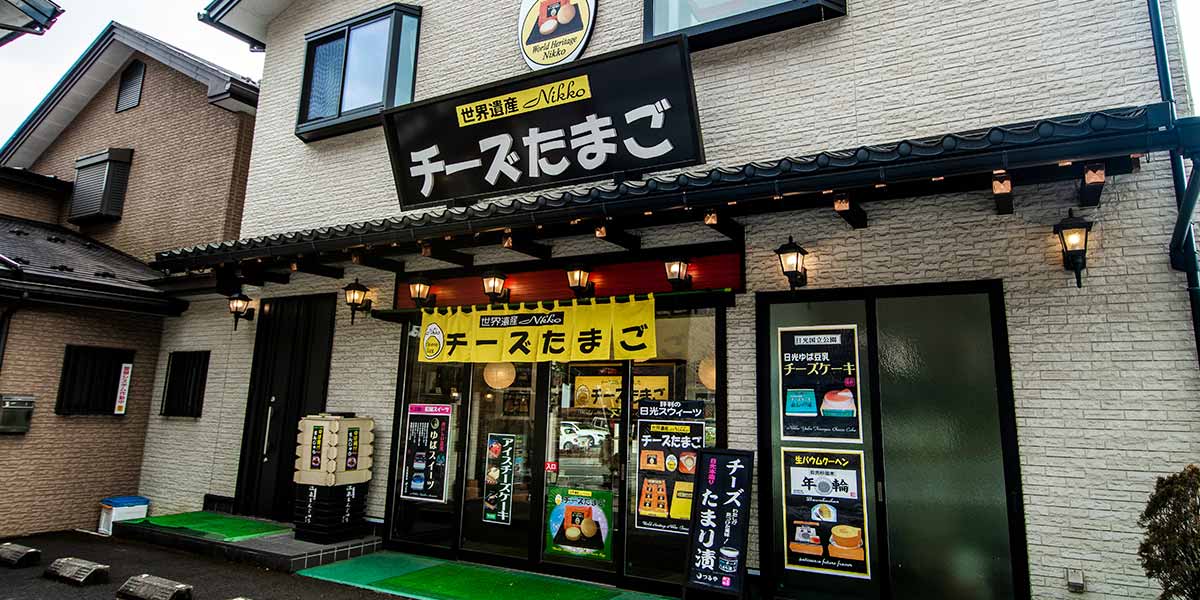 There are many restaurants and souvenir stores along the main road in Nikko. The ones I mention here are located in between Nikko Maruhide Shokudo Main Store and Nikko Tamozawa Imperial Villa Memorial Park.
Tochigi is well known for their strawberries and there were also a lot of cheesecake-related desserts for sale, so I was in absolute heaven. Many souvenir stores sold whole premium cheesecakes, which as a solo traveller, didn't quite suit me. Then, I came across the glorious Nikko Cheese Egg and WOW. I am drooling just thinking about it. If you are as in love with cheesecake as I am, then I absolutely recommend you give them a go. They taste exactly like you think they would; like bites of cheesecake wrapped in a fluffy cake-like shell. The signs advertising these cakes are everywhere, so they will be hard to miss!
There are also strawberry cheesecakes for sale, and well, everything else that could possibly be given a strawberry flavour. I picked up some strawberry flavoured potato chips on the way and although I was a bit suspicious before I tried them, once the first chip entered my mouth I was in love. I saw the strawberry chips in a few different stores along my travels, so if you ever miss them while you're out and about, the souvenir stores at Nikko-Tobu Station have you covered.
8.  Nikko Tamozawa Imperial Villa Memorial Park
Nikko Tamozawa Imperial Villa Memorial Park is notable for a variety of reasons. The residence has historically been used as a residence and holiday home for many of Japan's Emperors and Princes, is one of the largest wooden structures left in Japan and is formally recognised as both a "National Important Cultural Property" and as one of the "100 Historic Parks in Japan".
Originally built in Tokyo in the Edo Period, the villa was the residence of the Tokugawa Family, who were the reigning family of the time. After the Tokugawa's were removed from power in 1868, the Emperor resumed control over the whole of Japan, thus transferring ownership over to the Imperial Family. In 1899, the villa was reconstructed in Nikko using parts of the original structure from Tokyo to be used as a holiday home for Emperor Taisho (reign 1912 – 1926) while he was still the Crowned Prince. The villa underwent a small renovation at the beginning of Emperor Taisho's reign before undergoing large scale renovations in 1918. Three generations of Emperors and Princes used the villa until World War II, where it was left mostly abandoned until 2000 when it was restored and reopened to become the Memorial Park we see today.
The building displays a fascinating mix of styles, incorporating elements from the Edo, Meiji and Taisho periods as well as having a mix of Eastern and Western details. The rooms alternate between traditional tatami flooring and ornate, old fashioned carpets, there is a room with a billiards table and also a room with a historic Japanese toilet. The contrast is quite fascinating, and you will be struck by the contradictory elements that make up the building.
The villa is English friendly, so you will have no problem navigating the residence and learning its history. You can find out more information about the entry times and pricing here. Please note you will need to take off your shoes to enter the villa.
9. Kanmangafuchi Abyss
Kanmangafuchi Abyss is basically a lovely flowing river with a row of statues of the bodhisattva Jizo lining the riverbank. There is no entry fee, it is not a shrine or any particular place of worship. It is simply a lovely natural scene with lovely statues.
Statues of Jizo is a common sight all over Japan, especially for travellers, as he is the protector of travellers and the protector of children, especially those who died before their time. It is common to see Jizo dressed in red beanies and bibs in reference to the children he protects. Local women purchase or knit clothing for Jizo to wear as a way to accrue merit for the afterlife and also sometimes leave offerings of toys, candy, water and food for the souls of children passed. As a traveller, make sure to pay your respects to Jizo when you visit and thank him for protecting you through your travels in Japan!
Kanmangafuchi Abyss is a lovely walk, albeit a bit rocky and muddy after the rain, so I recommend wearing your hiking gear if you plan to explore the area in detail. It is also a bit out of the way compared to most sites, so I recommend going with a friend or as part of a tour group.
Day 2: Okunikko
1. Akechidaira Ropeway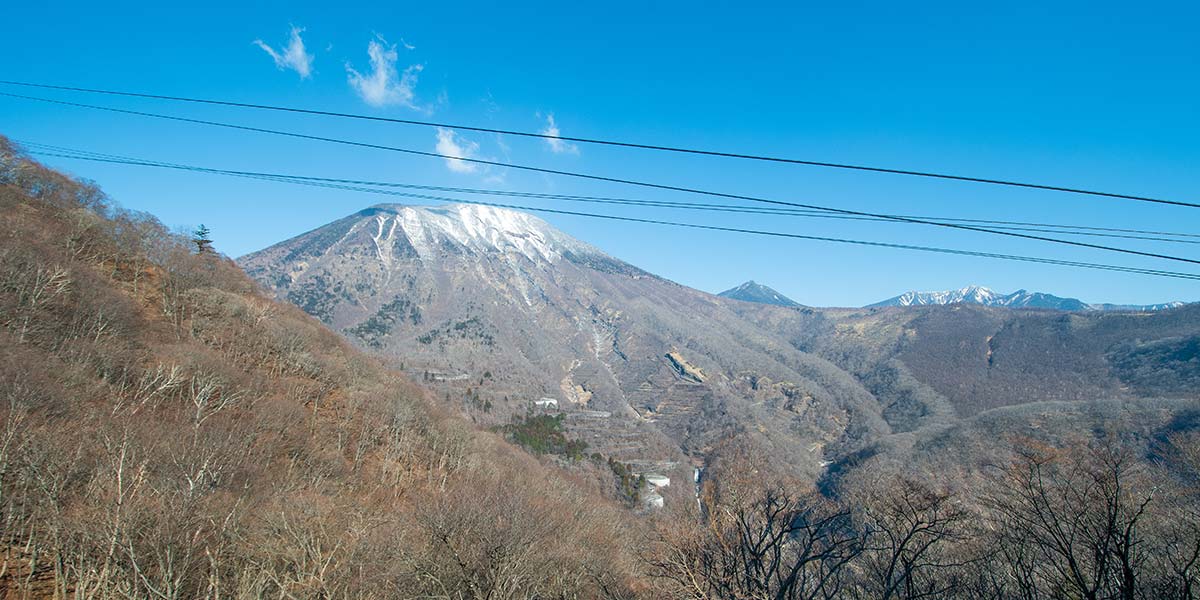 Akechidaira Ropeway is located at the top of an extremely twisty route called Irohazaka Winding Road. In all honesty, the bus ride here is an experience in and of itself. If you're a nervous traveller or are afraid of heights, stay away from the window. How the bus drivers navigate such a large vehicle up the thin, zigzag-y roads I will never know!
Get off at bus stop 24, Akechidaira, and you will arrive at Akechidaira Plateau. This area includes a souvenir shop and small café where you can enjoy the already beautiful views and purchase your tickets for the ropeway.
Unfortunately, that was it for me as the ropeway was briefly closed for maintenance. The good news is that it was likely closed due to it being the off-season while I was there (late Feb/early March). When you visit in koyo season, the three-minute ropeway will delight you with spectacular views over an orange and red valley before dropping you off at an observation deck with incredible views of Lake Chuzenji, Kegon Falls and Mount Nantai. I'm super jealous of your amazing trip and amazing photos just thinking about it!
Access information can be found on the Tobu Buses website.
2. Kegon Falls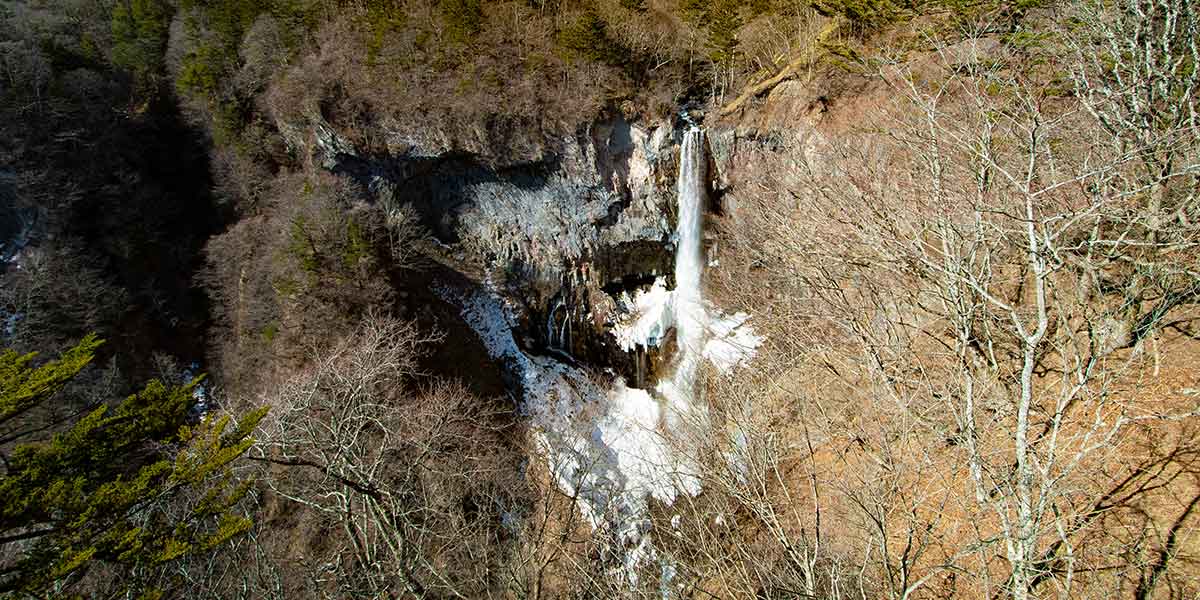 From bus stop 24, get back on and ride the bus to stop 26, Chujenji Onsen. Kegon Falls is about a five-minute walk from here.
About 15,000 years ago, Mount Nantai erupted and created Lake Chuzenji, thereby also creating Kegon Falls. It is the most famous waterfall in Nikko and one of the three most famous waterfalls in Japan alongside Nachi Falls in Wakayama and Fukuroda Falls in Ibaraki.
The waterfall can be seen for free via a viewing platform about 100 metres above ground level, which is where this photo was taken. You can access this platform from behind the restaurant next to Kegon Waterfall Elevator Office.
If you wish, you can also view the waterfall from the riverbank by paying to use the Kegon Waterfall Elevator. The views are quite lovely, especially in autumn, however, I personally didn't want to pay over ¥500 just to see it from a different angle. For more information on accessing the waterfall and for pricing for the elevator, you can check out Kegon Falls' official English website here.
The area next to the Elevator Office includes a restaurant, café and souvenir shop, so there's plenty to entertain after you see the waterfall.
3. Lake Chuzenji, Chuzenji Onsen and Mount Nantai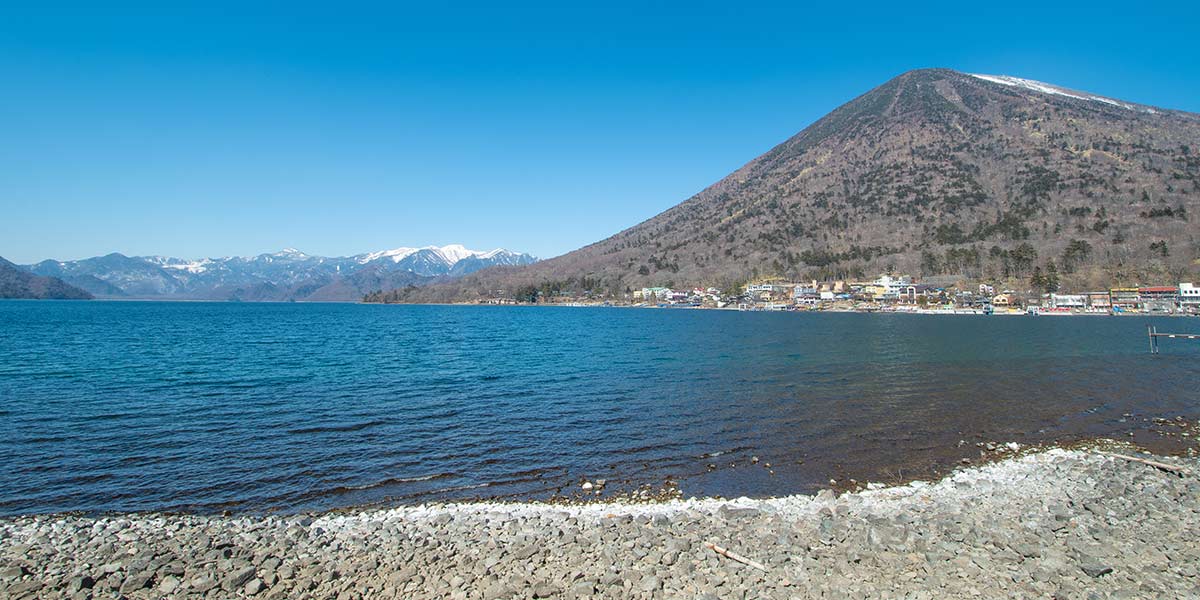 When you are finished at Kegon Falls, walk back towards Lake Chuzenji. The entry point of this lake is marked with an imposing torii gate arching over the road. If you wish, you are able to stay at the hotels around this area as part of Chuzenji Onsen. I recommend staying at Hoshino Resorts KAI Nikko, which is located right on the water, about 350 metres south of the torii gate.
Lake Chuzenji is the central point at which most of the sights I mention are based, so I personally chose to use a combination of walking and using a bus to make my way around it. First, I walked south and made sure to look behind me as I walked so I could witness the beautiful views over the lake with Mount Nantai in the background. To the left of the lake is many different resorts, souvenir stores, restaurants and cafes for you to browse on your way to Chuzenji Temple.
On your way, you will pass Tachiki Kannon Mae Tour Boat Terminal, where you are able to board a sightseeing cruise of Lake Chuzenji. They also have a port on the northern end of the lake called Funa no Eki Chuzenji, which is their main terminal. To view the route, pricing and all other information regarding the cruise, visit their official website here.
When you are finished on the south side, loop back around to the torii gate and continue west along the main road. There are more restaurants and souvenir stores along here and it will eventually lead you to sunset pier, the perfect place to end your day (more on this later).
4. Chuzenji Temple
Chuzenji Temple is a beautiful vermillion temple located right on the water at Chuzenji Lake. The main temple is mounted on top of a small hill, giving you stunning views overlooking the lake. The temple is a sub-temple under the care of Rinnoji Temple, located in Nikko's World Heritage area (if you're a skim reader, you can find out more about this temple above).
When you arrive, walk up to the main building on your left and grab your goshuin. I was lucky enough to arrive at a time where some other people had asked for a tour, so I was taken through the lower building and the upper building by one of the caretakers of the temple. Unfortunately, he only spoke Japanese, so I wish I could recount to you all of the wonderful things he told me about the temple! I simply nodded and listened and made sure to look whenever he pointed to something of interest.
Now that I have done my research, I know that the lower building houses a 6-meter wooden statue of Kannon, the Buddhist goddess of mercy. The upper building is comprised of a worship space called "The View of the Godaido", where the five kings of Fudo Myo are enshrined. Make sure to look at the ceiling when you visit to see a beautiful white painting of the dragon Daiun Ryu.
5. Yuba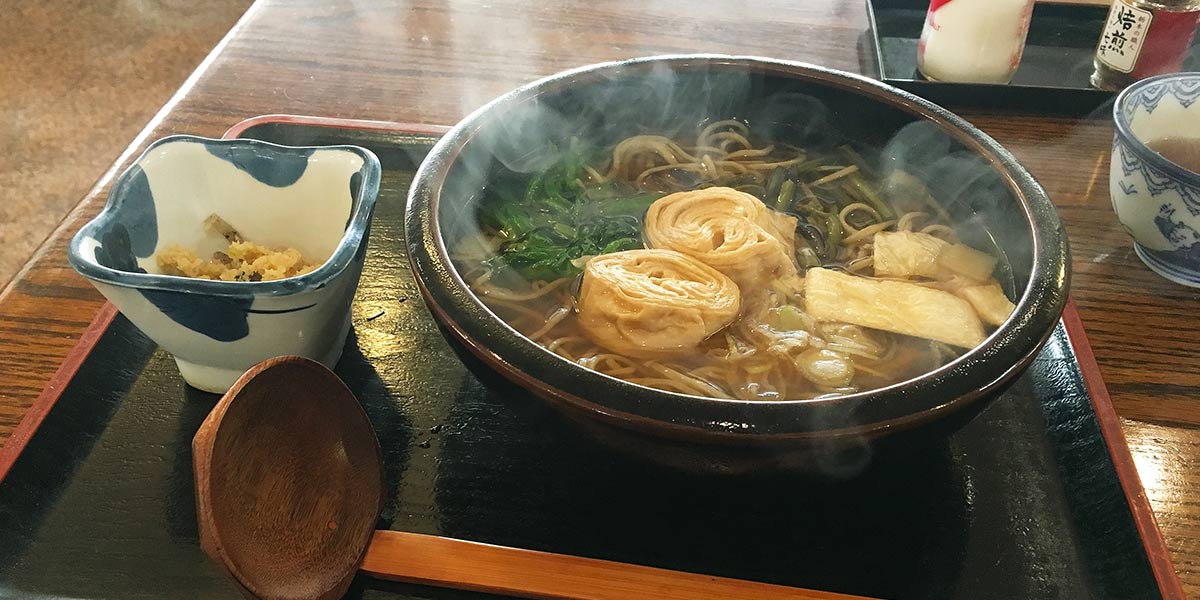 Yuba, literally meaning 'tofu skin', is made by boiling soymilk and picking up the skin-like film that forms at the surface. I admit that it isn't the most enticing description so please trust me when I say that it is a must-try when visiting Nikko.
If you're a fan of tofu, then you'll definitely like yuba. Most restaurants in Nikko serve yuba on top of the town's other local specialty, soba noodles, however you will find it used in as many ways as tofu or other meats are in Japanese cuisine. I saw yuba served in ramen, with soba, udon and rice and also served by itself.
But I have to say that the most interesting yuba cuisine I tried in Nikko was the flavoured soft serve. So, I know what you're thinking. How did it taste? Well, I won't be choosing it over chocolate anytime soon, but I'm really glad I gave it a go. I am always stunned at how accurately the Japanese make soft serve ice cream taste like other things and yuba soft serve is no different.
Most restaurants in Nikko serve yuba, so it will be easy for you to find a place that has it on the menu. The area is very tourist friendly so it is likely that the shops in the main tourist zones will have an English menu for you to read. In terms of picking the best restaurant, I don't really think you can go wrong; simply pick one and enjoy!
6. Futarasan Shrine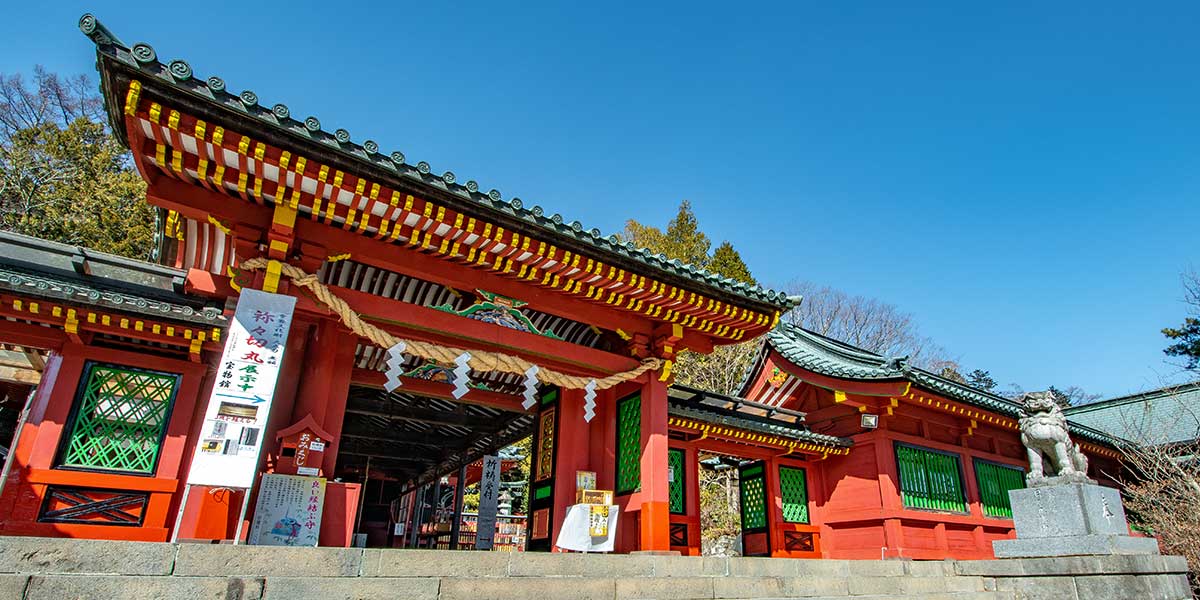 Futarasan Shrine in Okunikko is not to be confused with Futarasan Shrine in Nikko itself. In fact, they are part of the same shrine and just called the same thing. Confusing, right?
I think that this one is the more beautiful of the two and actually less crowded since it is not sitting amongst the rest of the World Heritage Temples and Shrines. The shrine is located just opposite Chuzenji Lake and is accessible via a steep road or via stairs that will lead you to the front of the shrine.
Entry to the shrine is free but I recommend checking out their gift store for some beautiful lucky charms. Descriptions are in English so you will be able to determine which one is best for you!
7. Ryuzu Falls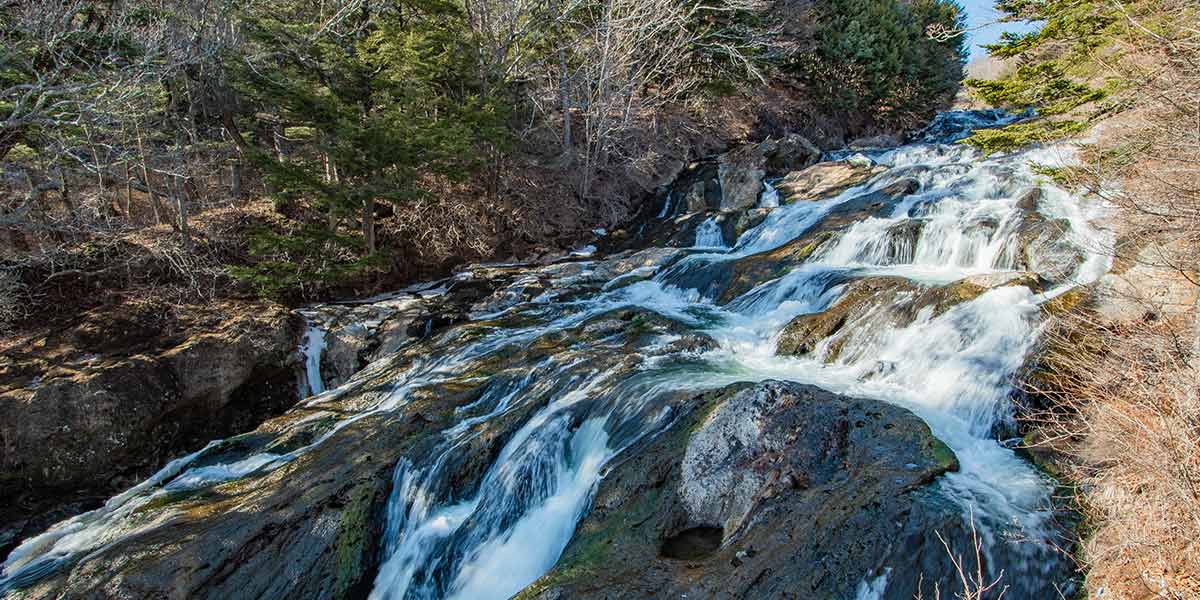 When you are finished with Futarasan Shrine, take the bus from stop 30, Futarasan Jinja Chugushi, up the hill to stop 37, Ryuzu no taki, to arrive at Ryuzu Falls.
Ryuzu Falls is literally named "dragon head waterfall" due to the appearance of the double falls resembling the head of a dragon. Although it is not famous or beautiful enough to be formally recognised, I believe this is Nikko's most beautiful waterfall.
When you arrive, walk into the souvenir store/restaurant that awaits you and you will see the twin falls on the other side. Take your time to enjoy the view, maybe with a meal from the restaurant or a yuba soft serve from the café. When you are finished here, you can also walk up the right-hand side of the waterfall via a staircase located behind the main building. It's a bit of a climb, but I recommend at least getting to the first clearing so you can see the incredible view pictured above. The path continues uphill for about 15 minutes until you reach the top of the waterfall.
8. Yudaki Falls
Yudaki Falls is the last of Okunikko's three main waterfalls. It is located much further north than the other two, closer to Yuno Lake than Lake Chuzenji.
I don't recommend visiting this waterfall unless you have a car or are an experienced hiker and don't mind the walk. With a car you are able to easily reach the bottom of the waterfall via a small road and park next to a souvenir store before making your way to the observation point at the bottom of the waterfall. If you choose to take the bus, you will need to walk to Yuno Lake and take the stairs to the bottom.
To get there by bus, get off at stop 44, Yutaki Iriguchi and pay the extra fare if necessary (if you have the Yumoto Onsen Free Pass it will be free, however, I had the Chuzenji Onsen Free Pass, so I had to pay an extra few hundred yen). From here, walk the extra 5-10 minutes up the hill and you will reach Yuno Lake, where you can see the top of Yudaki Falls. I took a moment to take it all in. It was a stunning sight too see the lake half-frozen over as local fishermen went ice fishing in the middle of the frozen ice. At the top of the waterfall, you will see a small pond and a staircase. Walk down the stairs until you get to the bottom. These steps are quite the workout and can be a bit dangerous, so please do not attempt this if it is winter. There were a few instances where full steps were completely iced over, so I had to jump down multiple steps at a time.
Once you reach the bottom, you have a spectacular view looking up into the falls. There's something so peaceful about watching the water fall to the rocky surface below while listening to the lovely sound the water makes when it hits the ground.
If you like, you can take the journey a bit further north and stay at one of the hotels as part of Yomoto Onsen for a relaxing hot spring experience that is a bit out of the way of the normal tourist zone.
9. Sunset Pier, Lake Chuzenji
At the end of the day, head to sunset pier near Futarasan Shrine to enjoy the phenomenal sight of the sun setting over Lake Chuzenji. I don't think I need to say anything else about this. The breathtaking sight speaks for itself.
Bonus Sight: Eastern Nikko
1. Nikko Strawberry Park
Ever since I was little, I've always dreamed of going strawberry picking and my wish finally came true at Nikko Strawberry Park. Needless to say, I absolutely loved the experience and would highly recommend it to all of my fellow strawberry lovers!
The park grows four different kinds of strawberries, Tochigi Prefecture's famous Tochiotime strawberries, Red Cheek, Sky Berry and Yayoi Hime, which all vary in sweetness, sourness, texture, juiciness and colour. The picking period is from early December to early June, so if you arrive for a strawberry picking experience, you will be randomly given a type of strawberry to pick depending on the growth of the berries.
They're all amazing, so no matter which one you get, you're in for a treat!
Also not to be missed is the incredible gift store. You are able to purchase strawberry jams made by the farm as well as a variety of strawberry flavoured ciders, curries (yes!), lollies, chocolates, popcorn, chips, cakes and so much more!
Nikko Strawberry Park is a little difficult to get to, so I recommend taking a car. I'm just a strawberry super nut and was perfectly fine with the half-hour walk from the closest train station!
–
I hope you've enjoyed this guide on things to do in Nikko! Are you planning to visit on your travels? Have you visited any of the places I've mentioned? Make sure you let me know in the comments below!
Pin post for later: