Top 25 Things to do in Kyoto
Kyoto is one of the most famous and important cities in Japan, serving as its capital until 1868 and acting as its unofficial cultural capital today. As the eighth-largest city in Japan, its modern features are distinctly muted in comparison to the futuristic mecca's larger cities have become, yet the crowds remain just as high due to its well-known reputation as a cultural and historical icon.
Kyoto is the gateway to Japan's rich history. The city is home to over 1600 Buddhist temples and over 400 Shinto shrines as well as many theatres, performance spaces and historical buildings that preserve ancient Japanese practices such as kabuki, the tea ceremony and the ways of the geisha.
Thankfully for us tourists, Japanese people are wholly devoted to preserving their culture and have embraced Kyoto's status as the cultural hub of Japan. The city holds cultural performances, special festivals and spiritual events all year round to delight visitors and locals alike. No matter what aspects of Japanese culture interest you, Kyoto will have something for you.
Most tourists look to visit Japan in cherry blossom season, however, this post focuses on things you can do year-round. Make sure to keep an eye out for my "Best Places to See Cherry Blossoms in Kyoto" blog post scheduled for early 2020!
But for now, let's dig into my top 25 things to do in Kyoto!
1. See the beautiful vermillion gates at Fushimi Inari Shrine
Let's get the obvious ones out of the way first, shall we?
Fushimi Inari Taisha (shrine) is one of the most iconic places in all of Japan. Immediately recognizable by the thousands of vermillion gates that arch over its paths, Fushimi Inari is the staple item on most people's Japan travel bucket list. Being so popular, it is also one of the most crowded sites in Japan, seeing around 2.7 million visitors per year.
If you're excited to visit and worried about the crowds, try to avoid the shrine during cherry blossom season, especially during full bloom. However, since that's the time you're most likely to be there, make sure to avoid weekends, arrive as early as possible (those empty pathway shots are taken around 6am!) or as close to the closing time as you can without limiting yourself. There is also the option to climb up the mountain, as the crowds are more and more sparse the higher you go.
Please also remember to be respectful and to take care when visiting, especially after dark. The mountain is not lit at night so you will easily get lost without a torch!
2. Visit Kyoto's most famous temple, Kiyomizu-dera
While Fushimi Inari Taisha is the most famous Shinto shrine in Kyoto, Kiyomizu-dera is arguably the most famous temple. Founded in 778, the 130,000 square meter temple includes 30 buildings and, like most of Japan's most notable monuments, has been built and rebuilt many times since its original construction, with most of what we see today originating in 1633.
The iconic image we all know and love is of Hondo (the main hall) as seen from Okuno-in hall. The Main Hall is an awe-inspiring wooden structure much bigger than most in Japan and provides incredible views over Mt. Otowa, Otowa Waterfall and the temple grounds. Enshrined in Hondo is the Eleven-headed Thousand-armed Bodhisattva, Bodhisattva meaning a figure who has postponed enlightenment and maintained earthly attachment in order to help each being on earth achieve nirvana. He is a symbol of compassion and mercy and is one of the most famous figures in Buddhism.
As a UNESCO World Heritage site, Kiyomizu-dera is one of the most important cultural sites of Kyoto and is regularly under construction to maintain and preserve it from the effects of time. As such, I recommend looking up the status of the temple here before you visit.
3. Explore the streets surrounding Kiyomizu-dera; Ninenzaka and Sannenzaka
Ninenzaka and Sannenzaka are two streets leading to Kiyomizu-dera that are preserved in Kyoto's traditional style. The stone streets, wooden buildings and ornate roofs show us a Kyoto of times gone by and house many stores targeted at tourists, such as traditional craft stores, street food stores, toy stores, omiyage (food souvenir) stores and more! There is even a studio Ghibli store with a large Totoro welcoming you and a Starbucks store that completely embraces the traditional décor of the area in a beautiful yet slightly bizarre combination of the modern franchise business and old Kyoto.
As you explore the area, make sure to look for Hōkanji Temple so you can visit the most famous part of the area. It's nowhere near as glamorous as the photos make it out to be (damn photoshop), but it's certainly a sight to see!
As a side note, please be careful to be a respectful tourist in this area as it is one of the most popular tourist destinations in Kyoto. The city has been struggling to combat the repercussions of overtourism in this area in recent years and has, in turn, started to implement laws to more successfully combat destructive behaviour. As of October 2019, a ¥10,000 fine is applicable to all tourists who take photos of private roads. Signs have been put up and brochures are now being handed out to remind tourists to be respectful in the area and refrain from taking unsolicited photos of geisha and maiko.
Yes, the famous photos we see of geisha and maiko in this area are beautiful, but not something everyone needs to take themselves. Please remember that the unique atmosphere, history, tradition and legacy of this area is something to be respected and preserved and is incessantly more valuable than your next Instagram post.
4. Pray for your relationships at Yasui Konpiragu
Yasui Konpiragu is a small Shinto shrine located in Gion that is most famous for its power stone which is known for "breaking off bad relationships and initiating good ones". It is, therefore, a popular shrine for those in committed relationships, looking for committed relationships or those struggling with unhealthy relationships with alcohol, drugs and other addictions.
The power stone is barely visible due to the number of katashiro charms stuck to its surface that hold the wishes and prayers of those who have visited. If you wish to purchase a charm and place it on the power stone, the shrine's website outlines the ritual you should do in order to have your wishes heard.
The shrine is surrounded by gorgeous wisteria trees so you are in for a special sight when visiting in blooming season, which occurs just after cherry blossom season from late April to early May.
5. See the famous Kinkaku-ji (Golden Pavillion)
Kinkaku-ji is a Zen Buddhist temple located in the north-western area of Kyoto city. The temple originated as the retirement villa of shogun (samurai/military leader of Japan) Ashikaga Yoshimitsu (ruling 1368 to 1394), the third leader of the Ashikaga shogunate (the name given to the time period in which his clan ruled Japan), also known as the Muromachi Period.
Upon his death in 1408, the villa was turned into a temple in accordance with his will but was unable to be maintained due to the turbulent power struggles that defined medieval and modern Japan. As a result, it has unfortunately been burned down and rebuilt many times over the years, with many buildings being lost in the process. The structure we see today is the only building left of the original villa and is unusually new. It was built in 1955 after a young monk burned it down five years prior.
Thankfully, the original design and unique architecture of the pavilion remains intact. The three floors of the building have been built according to three different architectural styles. The first floor, modelled in the Shinden style, emulates the design used to build palaces and homes for the imperial family and various aristocrats during the Heian Period (794 – 1185). The second floor uses the Bukke style, which was the prominent style used in samurai residences. And finally, the third floor is modelled using Chinese architecture, meant to emulate the same style used for their Zen halls.
Although the general public is not allowed inside, it's interesting to imagine how different each level looks and to try and peek inside the windows from afar.
6. And its sister temple, Ginkakuji (Silver Pavilion)
Ginkakuji was built by Ashikaga Yoshimasa, the eighth shogun of the Ashikaga shogunate and grandson of Ashikaga Yoshimitsu (the shogun mentioned in the Kinkaku-ji (Golden Pavillion) summary). The temple also originated as a retirement villa and was based on the design of Kinkaku-ji, similarly, becoming a temple upon Yoshimasa's death. Although its design is a lot more muted compared to the extravagance of the Golden Pavillion, its similarities are clear, with both having the same square shape, curved roof and distinct floors displaying different architectural styles.
A traditional gate welcomes you to the temple as you continue along an imposing hedged pathway and through the main entrance. Ginkakuji will greet you as soon as you enter, so make sure to take your photos quickly so you don't block the entryway for other guests wishing to visit the temple. The path will then lead you to Hojo, the main hall of the temple. It is a stunning building, so I hope that the doors are open for you to peer inside when you visit. As you continue your path and explore the vibrant gardens that make up the temple grounds you will notice smaller places of worship, mini waterfalls, beautiful foliage, a sand garden and other temple buildings. Unfortunately, the buildings are not open to the public, so you will just have to appreciate them from the outside!
To end your visit, there is a lovely gift shop just before the exit where I was able to find some lovely Buddhist charms to take back home.
7. Visit the iconic Arashiyama Bamboo Grove
Arashiyama Bamboo Grove is one of the most recognisable sights in Japan, let alone Kyoto! It has graced the cover of Lonely Planet guides, been photographed endlessly by photographers and instagrammers alike and is one of the most highly recommended places to see in Japan.
Unlike what you'd expect from the photos, the bamboo grove is actually very short. Unless there is a sea of people blocking your view, you can see the end of the pathway from the beginning. This was a bit shocking for me the first time I visited, as I expected something as grand and dense as the photos suggest.
As for when to visit, I recommend showing up very early in the morning if you are looking to grab a shot without anyone else in it. I arrived at sunrise and there were already photographers there snapping away, including a whole photoshoot with models! And as with Fushimi Inari, don't go on weekends and try to visit during off-peak travel seasons for the best experience. Visiting the bamboo grove is free, so you can always come back at another time!
The grove is easily accessed via the main road of Arashiyama, or if you are visiting Tenryuji Temple, the entrance is located to the left of the temple's exit.
8. See the most important Zen temple in Kyoto, Tenryuji Temple
Tenryuji Temple is a UNESCO World Cultural Heritage temple and is the most important of the five great Zen temples that reside in Kyoto city. Established in 1339 by the first shogun of the Ashikaga shogunate, Ashikaga Takauji, Tenryuji was built to honour Emperor Go-Daigo, a former ally of the shogun who had passed the same year.
As is usual for these temples, Tenryuji has burned down no less than eight times since its development and has seen major changes in its layout, size and structure due to the problems caused by changes in government, wars and civil unrest and a lack of funds to support its reconstruction. Most of the temple we see today was built in stages from 1900 to 1934, the Zen meditation hall is the only one to survive from the latest fire in 1864.
The most notable parts of the temple include its main hall and the Sogen pond garden. The garden is especially beautiful in cherry blossom season as the weeping cherry trees drape over most of the garden. While exploring the grounds, you will see a lovely statue of Emperor Go-Daigo perched above a small pond.
The garden is undoubtedly the star of the show at Tenryuji. It was the only part to have survived the constant fires, which you will be very thankful for when you see its beauty! The pond is the home of countless koi fish that swim up to you in hope of being fed, while the foliage surrounding it ranges from stunning shades of brown to pink to green to red, depending on the time of year.
9. See the Japanese Macaques at Arashiyama Monkey Park
A visit to Arashiyama would be incomplete without paying a visit to Japan's wonderful snow monkeys! These beautiful creatures are native to Japan and can also be seen at the famous Jigokudani Monkey Park in Nagano Prefecture. The park is open for visitors all year round but is especially beautiful in autumn and winter.
The entrance of Arashiyama Monkey Park Iwatayama is located behind a mini Shinto shrine at the base of the Katsura River. After you pay your entrance fee, you're in for a bit of a hike uphill to get to the main feeding site further up the mountain. Please only attempt this hike if you are in good health and don't mind the physical exertion. When I arrived, I noticed a few preteens refusing to make the climb and forcing their parents to leave the park (in their defence, it was the end of the day)!
Once you are at the feeding site, you will be met with many wandering monkeys, a cabin where you are able to hand feed them and a stunning view over Arashiyama. This is not a traditional zoo in the sense that the monkeys are separated behind fences; they are wandering around the park just as you are, so please make sure to watch out and stay safe, especially if you have children. These monkeys are wild animals and are prone to getting into fights from time to time, getting overprotective over their babies and moving so quickly you'll need to dodge out of their way. With that being said, the park was mostly filled with young families so young children should have a blast.
10. Stroll through Arashiyama Kimono Forest
Located next to Arashiyama station is a stunning pathway filled with transparent pillars that are adorned with various traditional kimono patterns. Arashiyama Kimono Forest is one of the most beautiful art installations I visited in Japan and is certainly one of my favourite sights in Kyoto. The fabrics were made by Kamedatomi, a company that specialises in creating kyoyuzan dyed textiles and were hand-picked for this installation by artist Yasumichi Morita.
This art installation is the perfect fusion between the modern and the traditional creating a truly unique atmosphere that is sure to delight anyone who visits. For an even better experience, make sure to visit at night as the kimonos are lit up from inside. The scene is simply magical!
11. Dress up in a traditional kimono while you sightsee
There are many kimono rental stores located in Kyoto's main tourist hubs. These stores allow you to dress in traditional kimonos (for males, females and children) for the day while you roam the old-style streets of Kyoto and enjoy the sights. Some even pair it with walking tours. If you would prefer to experience it in a more traditional way, you are also able to dress in kimonos for tea ceremony experiences.
The most popular places to rent and wear kimonos are around Fushimi Inari shrine and Kiyomizu-dera temple; the latter, especially as the streets leading up to the temple, are filled with touristy stores and encompass another popular sight, the Ninenzaka and Sannenzaka districts.
It is a popular tradition for Japanese people to dress up in kimonos and have a photoshoot at Japanese gardens and historic districts to celebrate their weddings. Dressing up will allow you to emulate this yourself, but you also may find some of these photoshoots going on whilst you travel, especially in cherry blossom season! The couples are always so stunning and in love, so it's a heart-warming moment to see.
12. Participate in a traditional tea ceremony
Attending a Japanese tea ceremony is one of the most popular cultural experiences for tourists to engage in. There are companies all over the country that offer these experiences, however being Japan's cultural capital, you will be spoiled for choice when it comes to booking your ceremony.
Personally, I booked a kimono plus tea ceremony experience with a company called Maikoya. Their staff were all wonderful and the ceremony was completely in English so each participant could understand. It is admittedly not the most authentic experience as the host speaks English and explains what is happening and why certain things are done, however having this context adds to your enjoyment as you learn why each subtle movement is done, why things take place in a certain order what each aspect of the ceremony symbolises.
I have also attended a more authentic experience in Kyoto before, which was lovely but a bit harder to participate in since I did not understand what gestures and words were expected of me during the ceremony. Unless you are very versed in Japanese tea ceremony etiquette and know enough Japanese to get you through it, I suggest booking the experiences targeted at English speaking tourists. You will have a wonderful time and learn a thing or two about traditional Japan in the process!
13. Attend a traditional geisha dance
There are five different geisha dances that take place annually in Kyoto; the Kitano Odori (late March – early April), Miyako Odori (April), Kyo Odori (early April), Kamogawa Odori (May) and the Gion Odori (early November). Each performance is put on by a different geisha district in Kyoto and are held at different theatres.
The largest and most popular performance is the Miyako Odori which is traditionally held in the Kaburenjo Theater, however, renovations have caused them to temporarily move the performances to another theatre. The Miyako Odori is a beautiful performance that takes you through the four seasons in Japan and celebrates each one's unique beauty. This is the only performance Kyoto's geishas do that involves performing with maiko and geisha from other districts. The performance is completely in Japanese but there are English guides for sale for around ¥500 which explains the story and performance elements as you watch the show.
P.S. Sorry for the stock photo! They don't let you take photos of the performance.
14. Experience kabuki theatre at Kyōto Minami-za
Kabuki is one of Japan's three major traditional theatre styles alongside noh theatre and bunraku theatre. It was created in 1603 (the early Edo Period) in the very area where Minami-za stands by theatre actress Izumo no Okuni and was the first form of entertainment developed in Japan for the common people. Kabuki began as a sexually suggestive form of theatre comprising of dancing and comedic performances and was enacted by all-female troupes. Many of the performers Okuni enlisted were prostitutes who used the performances to show themselves off to the public and, let's say, "attract more work". By 1615, Kabuki was a popular pastime of Kyoto's locals and special huts were built around the Shijo-kawara area to host the performances. One of these huts is seen to have been the origins of Minami-za theatre.
In 1629, the Tokugawa shogunate banned female performances of kabuki after the risqué behaviour of the prostitutes started to cause fights and other unruly disturbances amongst their crowds. To combat this law, kabuki was then performed by young boys dressed as women until 1652, when the shogunate recognised that these performances were just as disruptive as when females performed and put a stop to them to preserve the strong ethical culture of Japan. Thus, beginning the remaining tradition for kabuki to only be performed by adult men.
Kabuki is a diverse kind of theatre in terms of its subject matter and its performance style. Performances can cover grand wars or tragic love stories and can include singing, dancing, acting, and miming. Performers wear elaborate costumes, bright white makeup and detailed props while on an equally embellished stage.
When you go to a show, try to look up the story you are going to watch beforehand for some context. In a lot of cases, not even Japanese people can understand what's being said in the play as they use an old-style version of Japanese. Also, don't be alarmed when Japanese theatre-goers shout out at the performers. It is a normal part of kabuki theatre to shout the names of the troupes and other encouragements throughout the performance.
15. Visit the home of the Gion Festival, Yasaka Shrine
Located in Gion, Yasaka Shrine is one of the most popular shrines in Kyoto due to its location between Gion and Higashiyama as well as its proximity to central Kyoto. The shrine is also heavily visited in July as it hosts the Gion festival, the most famous festival in Japan, all month long.
Established over 1,360 years ago, the shrine is dedicated to worshipping the storm god Susanoo-no-mikoto, his wife Kushiinadahime-no-mikoto (a goddess of rice), and Yahashira-no-mikogami, a collective name for their 8 children. In Japanese Shinto mythology, Susanoo-no-mikoto saved his soon to be wife from being eaten by Yamata-no-orochi, an eight-headed serpent who had eaten Kushiinadahime-no-mikoto's 7 older sisters.
The shrine is, therefore, a place for people to pray to find love or for support and protection of their relationship. At the shrine you can purchase heart-shaped ema (wooden plaques) to write your wishes and prayers to leave at the shrine.
16. Celebrate the history of Kyoto at Heian Shrine
A relatively new shrine, Heian Shrine was built in 1895 to commemorate 1100 years since Kyoto was established as the capital of Japan (a title it held until the Meiji Restoration in 1868). Heian is the former name of Kyoto, which also relates to the "Heian Period", or the period in which the Imperial government ruled Japan from Kyoto. The shrine is dedicated to the first and last emperor to rule from Kyoto; Emperor Kanmu (737-806) and Emperor Takaaki (1831-1867).
The shrine was modelled after the reception room of the Imperial Palace as it was in Kyoto during the Heian Period. Though smaller than its counterpart, the building is a sight to beyond, made more impressive by the expansive grounds and gardens that surround it.
Each year on October 22, the shrine hosts the Jidai festival, which also commemorates the establishment of Kyoto as the capital of Japan. The festival includes a procession of about 2,000 people representing many different periods and aspects of Kyoto's history from the Nara Period to the Meiji Period. The procession starts at the Imperial Palace at 12pm and makes their way to the Heian Shrine by 4pm.
17. Visit the most famous Zen garden in Japan at Ryoan-ji
Ryoan-ji is a Buddhist Zen temple that holds the most famous rock garden in Japan. Although the origin of the garden is unclear, Hosokawa Katsumoto, the second in command to the Ashikaga shoguns, bought the existing estate in 1450 and turned it into a Zen temple with the help of the Zen priest Giten Gensho.
The mystery of the rock garden does not end at its origins. The meaning of the garden remains unclear, leaving it open to interpretation. It is also fascinatingly designed so that no matter where you view the garden from, at least one of its rocks is hidden from view.
Ryoan-ji includes a large pond and a few different buildings, however, there are a few parts of the temple that are not open to the public. As you walk in, go straight past the pond and up the stairs into the main entrance. A beautiful traditional tatami mat room will greet you with elaborate walls decorated with traditional Japanese designs. Then you will be able to sit on the edge of Hojo Abbot's Chamber and stare out into the Zen garden.
Although it is a very popular temple, it has a quiet and peaceful atmosphere that is very relaxing. The flowers and foliage that surround the garden are also quite lovely, including the few cherry trees scattered throughout the grounds.
18. Explore the expansive grounds of Daigoji Temple
Daigoji is, in my opinion, the most beautiful and underrated temple in Kyoto. Built by the Buddhist monk Shobo in 874, the grounds are massive and span across the Daigo Mountain, having temple buildings both at the bottom of the mountain and along the hiking path all the way to the top.
There are three sections that make up the temple; Sanboin (at the entrance), Shimo-Daigo (at the bottom of the mountain) and Kami-Daigo (at the top of the mountain). Each section comprises many different important cultural buildings and assets so it would be impossible for me to summarise them all here! Just know you will need at least half a day to explore the temple's grounds in detail and see each of its parts. Of course, if you wish to see the Kami-Daigo section as well, seeing the temple may take you a couple of days!
The most famous of the buildings in Daigoji is of the Bentendo Hall, located in Shimo-Daigo next to a small pond. The vermillion hall is surrounded by cherry trees as well as maple and ginkgo trees making it especially beautiful in cherry blossom season and in autumn. Bentendo is dedicated to Benzaiten, the goddess of knowledge and music and one of Japan's seven lucky gods (Shichifukujin).
Also notable is the five-storey pagoda called Goju-no-to, which is the oldest building in Kyoto. Built between 936-951, this pagoda has miraculously survived the wars and fires that destroyed most other historical buildings in Kyoto to remain with us to this day.
In 1598, Japan's (unofficial) leader, Toyotomi Hideyoshi threw an extraordinary hanami party with 1,300 people at Daigoji. In order to do this, he paid for the temple to be restored and improved upon and planted 700 cherry trees in its grounds. To this day, a festival called Ho-Taiko Hanami Gyoretsu (Toyotomi Hideyoshi's cherry blossom viewing parade) takes place on the second Sunday of April each year where the events of the party are recreated in a grand parade. Because of Toyotomi Hideyoshi, Daigoji is undoubtedly one of the best place in Kyoto to see cherry blossoms and to experience hanami. Unfortunately, the locals know this too, so it tends to be very crowded. I experienced this myself but can tell you with confidence that it is 1000% worth it. It is, after all, a hanami party fit for a VERY wealthy king.
19. Take a day trip to Uji and see Byodoin Temple
Byodoin is easily my second favourite temple in Kyoto, so even though it is located a bit far out of the city centre, I absolutely recommend visiting while you are there! Originally built as a villa in 998, Byodoin was turned into a temple in 1052 when the emperor's regent Yorimichi Fujiwara received it from his father. At the time, many monks and aristocrats believed that 1052 was the beginning of the end of the world, which led people to be more devout and believe in the Buddhist Pure Land. This was the belief that the world was too corrupt to achieve enlightenment, so by praying to Buddha Amitabha, you could hope to be reborn into a Pure Realm that made achieving enlightenment easier. Makes sense that a doomsday prophecy would motivate people to believe in reincarnation into a pure land!
These beliefs prompted Yorimichi Fujiwara to build the Phoenix Hall and to employ Jocho, the best Buddhist sculptor in Japan's history, to create a 2.4m tall statue of Buddha Amitabha. This statue is the only Jocho piece left today, so its importance cannot be overstated.
The Phoenix Hall was built to emulate the beauty and elegance of the Buddhist Pure Land, resulting in its palace-like feel and unusual placement on top of a pond. This building is the only example of the architectural style at the time, making it a significant cultural property for Japan. The Phoenix Hall is not able to be viewed unless you purchase a ticket from inside the temple (after you have already paid your entrance fee). Your ticket will display a time for you to enter and you will be taken through by a member of the temple's staff. I, unfortunately, missed out on this since I visited the temple at the end of the day, however, I was able to view the grounds, grab my goshiun and visit the temple museum which displayed many stunning sculptures and artefacts from the temple's history. If you wish to enter the hall, plan ahead as the waiting time can be upwards of 1 hour.
20. Visit Kifune Jinja in Kyoto's picturesque mountains
Kifune Shrine is a beautiful little shrine located in the north-eastern mountains of Kyoto. There is no official date listed for its construction until it underwent renovations around 1,300 years ago, so all we know is that it is a very old shrine! Legend speaks of the Shinto gods of rain and water who took a boat all the way from Osaka and ended their journey at this point. There is a teeny river that flows next to the shrine and the area seems to have an abundance of water so the atmosphere and the shrine itself are in wonderful unison.
At Kifune Shrine they have a special fortune (omikuji) that reveals the text once you place it in water. It's completely in Japanese but it was worth it for the experience and google translate sorta-kinda allowed me to read it. This was the only time in Japan when I received an unlucky fortune (dammit!) so I tied it on the wooden frame and prayed my bad fortune away!
Across the road from the shrine is a hiking trail that goes from Kibune to Kurama, the village on the other side of the mountain. The hike takes about an hour and a half and you will be able to visit a few more shrines along the way before you come across Kurama-dera Temple. There is also a hot spring nearby if you feel like a soak after the walk.
21. Explore Nijo Castle, the Kyoto base of the Tokugawa shogunate
Nijo Castle was built in 1603 as ordered by Tokugawa Ieyasu, the first shogun (military leader of Japan) of the Tokugawa Shogunate, also known as the Edo Period. As the capital of Japan has been traditionally recognised as the place where the Emperor lives, Ieyasu occasionally had to travel from his ruling headquarters in Edo (now Tokyo) to visit the Emperor in the capital for diplomatic events. Nijo Castle was built as a place for him to stay during these visits. When the shogun was not at the castle, it was protected by samurai warriors and was used as the ceremonial grounds for some of the most notable events in the Tokugawa Shogunate's history. Interestingly, the castle was the location where Tokugawa Ieyasu first recognised and celebrated his rise to power, whilst his ancestor Tokugawa Yoshinobu invited 40 senior subjects to Nijo Castle to announce the end of the Tokugawa shogunate and the transfer of power from the shogun back to the Emperor, thus ending the family's rule and beginning the Meiji Restoration. In that respect, Nijo Castle is the place where the Edo Period began and ended after 15 generations of shoguns.
The castle displays Japan's stunning traditional architecture, however, I think that the many gardens are the most beautiful part of the castle. In Spring, you are able to enjoy the 300 cherry trees, in summer you have crape myrtle and morning glory, in autumn the leaves of the cherry, maple and ginkgo trees turn stunning shades of orange, red and yellow and in winter the snow transforms the castle into a magical winter wonderland before the camellia's and plum blossoms start to bloom.
For ¥520, I recommend picking up an English audio guide at reception to fully understand the history and significance of the castle.
22. Visit the former home of the imperial family, Kyoto Imperial Palace
Kyoto Imperial Palace was the home of the Imperial Family from the time Emperor Kanmu moved to Kyoto (794) until 1868 when then Meiji Restoration saw the Imperial family move to Tokyo. The palace has been burned down several times since first being built, with the structure we see today originating in 1855. Due to these fires, the style of the palace has changed over the years, once reflecting the styles of the Heian Period from which it originated, later reflecting the styles that were popular in the Edo Period.
The Imperial Palace is located in Kyoto Goen (Goen meaning Imperial Garden), which is also the home of Sento Imperial Palace, which was built as a retirement home for Emperor Gomizuno in 1630.
Previously, you needed to register for a tour of the palace, but now you can roam the gardens for free without any previous arrangements. Security is tighter here than any other places I have seen in Japan, so you will need to have your bags checked before you enter.
If you wish to be taken on a tour of the gardens, they run English tours at 10am and 2pm on their open days. No registration is required for these tours, simply go to the Visitor's Room at the start of the tour. These tours go for around 50 minutes and take you around the gardens and many buildings in the complex. Unfortunately, you are not able to enter any of the palace buildings, even whilst on this tour.
23. Stroll amongst the flowers at Kyoto Botanical Gardens
Kyoto Botanical Gardens is one of the most beautiful places to visit in Kyoto. Established in 1924, it is the oldest botanical garden in Japan and boasts 12,000 different plants in its 240,000 square metre grounds. Most notably, the gardens have over 500 cherry trees that bloom in spring and have many trees that produce stunning red and orange koyo leaves in autumn.
The botanical gardens are one of my favourite places to see cherry blossoms in Kyoto. The trees are all grouped in one section so all you see is a massive sea of white and pink surrounding you as you walk along the path. The gardens are busy, but not insanely crowded so you will be able to enjoy the blossoms without the discomfort of overcrowding.
The best part about visiting in spring was being able to see the plethora of other gorgeous flowers perfectly manicured and waiting for you to enjoy their beauty. However, no matter what time of year you decide to visit, you are sure to witness some magnificent sights as the garden is filled with so many flowers, that something is always in bloom. You can see their floral calendar here.
With an entrance fee of only ¥200, you'd be crazy to miss out on this stunning attraction when you are in Kyoto!
24. Shop till you drop at Teramachi and Shinkyogoku Shopping Arcades
The street running east to west from Karasuma Station to Yasaka Shrine is the centre of Kyoto's huge shopping hub. Teramachi-dori intersects this road and runs north to south slightly west of the Kamo River. This incredible shopping district is the place to be for the department store lover, the souvenir lover and the shōtengai lover. Shinkyogoku connects to Teramachi so the shopping strip goes on and on and on!
If you continue east and cross the bridge over the Kamo River, you will be met with a bustling street leading up to Gion's Yasaka Shrine, which is filled with souvenir stores, restaurants, cafes, local ware stores and so much more! You will also find Hanamikoji-dori, which is an old-style street with traditional stores, restaurants and geisha!
It's fascinating to witness the change from a modern shopping complex to a traditional wares market by simply crossing the river. You could spend a whole day wandering the streets around this area to discover all of the boutique stores, shopping arcades and hidden gems they have to offer. Whether you are looking to shop at the Pokémon Centre, purchase a traditional kimono or try the best melon pan, you will find it here!
25. Try local street food at Nishiki Market Shopping District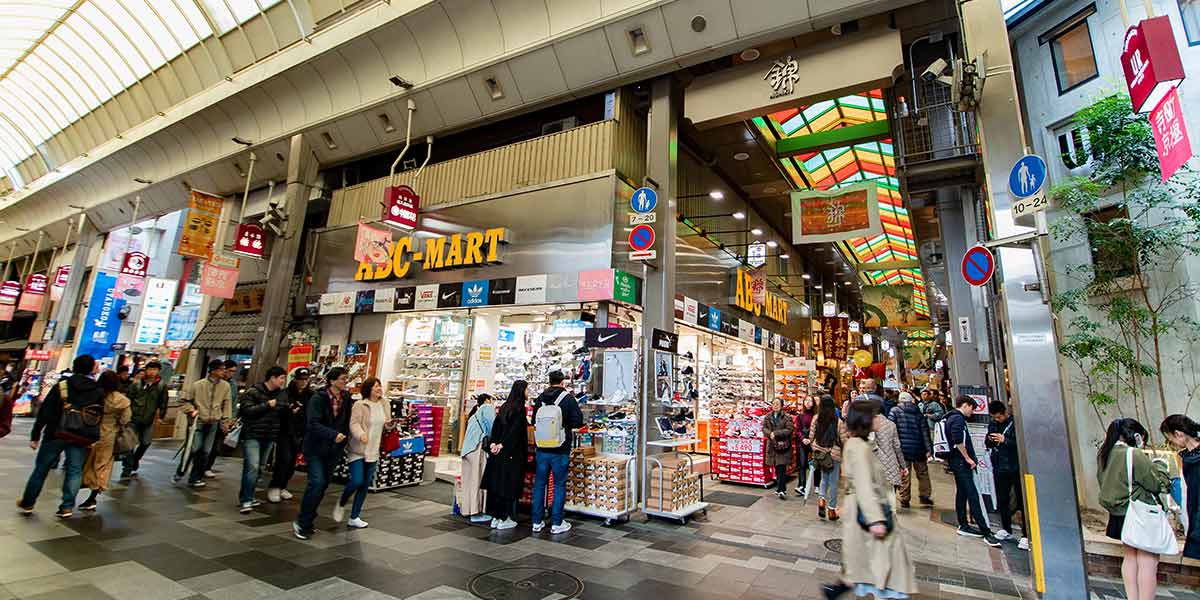 Nishiki Market is a fresh seafood and local produce market in the middle of Kyoto. While I absolutely recommend that you check it out, I want to point out that the market has suffered from the effects of overtourism so please be extra careful to be a considerate and respectful tourist while you are there.
When I visited in the middle of full bloom in cherry blossom season, the strip was like moving through a Japanese train in peak hour. There were people EVERYWHERE. It was very difficult to browse the different stalls because they were either blocked from your view or you were being swept away in the sea of people. The worst part is, that I heard that the businesses along this strip are now suffering because locals no longer buy their produce from there due to the extreme influx of tourists.
When you visit, I hope you keep this in mind and try to visit on days and at times where there will be less people there (such as weekdays, early mornings and afternoons just before closing). Please also make sure to be respectful and step to the side if you have bought and are eating food rather than walking while you eat. And, if you can, try your best to support the businesses along this strip in any way you can.
This shopping street has a lot to offer, with delicious street foods, local produce, cute themed stores, traditional souvenirs, incredible restaurants and so much more, so you are sure to discover some exciting things in Nishiki Market!
–
What are your favourite things to do in Kyoto? Have you visited any of the places I've mentioned? Make sure you let me know in the comments below!
Pin post for later: