Top 25 Things to do in Hokkaido
When a place is said to have the best seafood, the best desserts, the best snow and the best weather in all of Japan, it's hard to ignore! Hokkaido is one of the only places in Japan that's perfect to visit all year round, offering incredible sights and experiences no matter the season.
You'll be spoilt for choice when it comes to things to do and see in Hokkaido. The prefecture boasts stunning natural sceneries, incredible local food, a diverse range of festivals and cultural experiences, as well as a damn good beer.
So what should you do while you are there? Here are my top 25 things to do in Hokkaido!
Autumn and Winter
1. Go skiing and snowboarding
Hokkaido is renowned for having the best quality snow in Japan, having just under 20 different snowfields to choose from. Most popular amongst tourists include Niseko, Rusutsu, Furano and Asahidake, while other notable, less crowded options include Tomamu, Kamui, Sahoro and Moiwa.
Niseko is considered the "powder capital of the world", and as such is the most popular ski resort in Japan. With exceptional snow conditions, incredible nightlife, seamless English-friendly facilities, delicious restaurants, runs catering to all skill levels and suitability for all kinds of patrons, including young people and families, it's easy to see why Niseko is considered to be the best of the best. The only downside is that with prestige, comes crowds and higher prices. There is also a lack of culture and authenticity when most of the patrons of the resort are from English speaking countries. To find the best resort for you, I recommend checking out these ski resort ratings from Powderhound.
2. Attend the Sapporo Snow Festival (Sapporo Yuki Matsuri)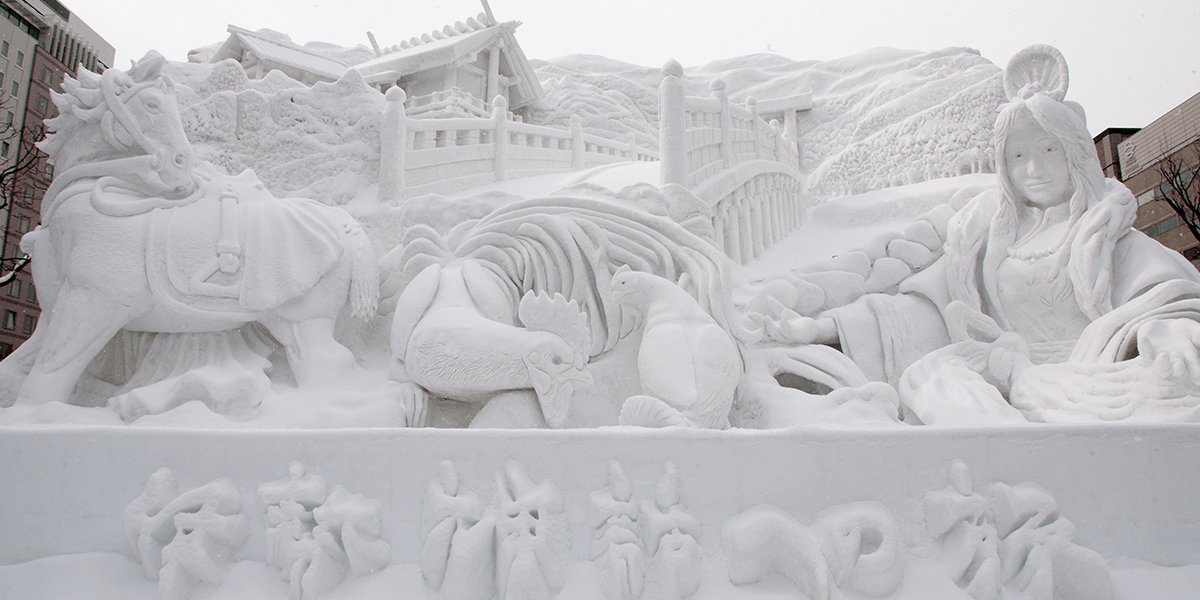 The Sapporo Snow Festival is held in the first week of February each year. Taking place across three different sites, the festival includes a dazzling display of snow sculptures at Odori Park, a set up of thrilling snow slides at the community dome in Tsudome, and a remarkable show of ice sculptures in Susukino.
The crown jewels of the event are the hundreds of snow sculptures that line the 1.5km length of Odori Park. With subjects ranging from ancient tales to the latest star wars movie, onlookers can remark on the towering sculptures of the festival as well as the many smaller ones scattered throughout the park. If you visit after dark, you will be met with a special treat as neon lights illuminate the statues in a spectacular display of colour and light.
Make sure to end your night by visiting the ice sculptures at Susukino, found just 10 mins away from Odori Park. Susukino is the home of Sapporo's nightlife, so you will be able to enjoy a beverage while wandering through the 60 or so sculptures that decorate the street.
For more information, you can visit the Sapporo Snow Festival Official website.
3. Soak in a natural hot spring (onsen)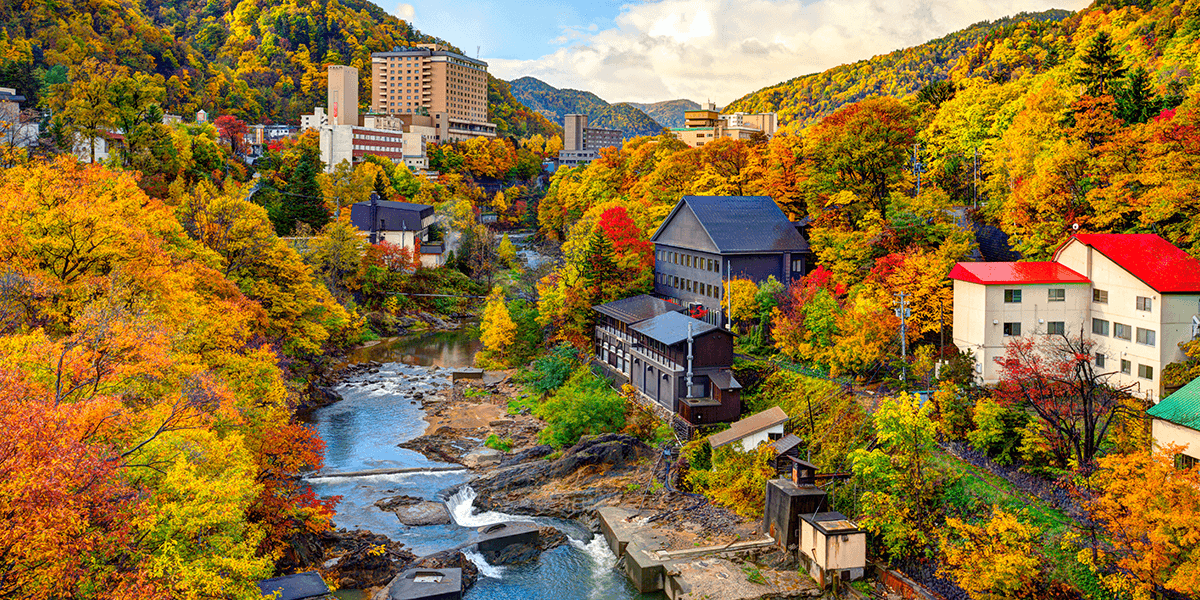 Hokkaido has an embarrassment of riches when it comes to natural beauty, having a stunning range of natural onsens throughout the prefecture. The most popular onsen in Hokkaido is Noboribetsu, but if you're looking for something a bit closer to Sapporo, then Jozankei is the one to visit.
Located around an hour from the heart of Sapporo, this onsen town comprises of 56 different facilities for you to enjoy the hot spring, including hotels, resorts, footbath onsens, and bathing onsens. Most onsens are located between the Tsukimibashi and Takayamabasi bridges on the Toyohira River, so make sure to take a stroll and try out a few of the onsens available. Most foot and hand baths in the area are free, so you'll easily stay squeaky clean throughout the day!
The best way to visit Jozankai Onsen is by purchasing a day trip ticket (which you can find out more information on here), or to stay at one of the ryokans or inns overnight. Make sure to visit during autumn or winter! Jozankai is seen as one of the most beautiful autumn foliage locations in Hokkaido (visit in mid-October to catch a glimpse).
Tip: while there are vending machines with hand towels in the area, you can save some cash by bringing your own.
Other onsens worth noting include Noboribetsu (as mentioned before – while you are there, make sure to visit its source, Jigokudani Hell Valley), Toyako Onsen (located on the southernmost part of Lake Toya), Yunokawa Onsen, Teine Onsen Honoka (in Sapporo), the hot spring at Kiroro Ski Resort, Marukoma Onsen Ryokan and Hakodate Tropical Botanical Garden (where you can see Japanese snow monkeys enjoying a soak)!
4. Go fruit picking in Hokkaido's fruit farms
If you happen to visit Jozankei Onsen in autumn, then make sure to pick some fruit at neighbouring Jozankei Farm while you're there! The spacious farm has a huge variety of fruit to pick, including apples, grapes, prunes, plums, strawberries and cherries. The farm also includes family-friendly activities such as tree trekking, fishing, pizza and jam making workshops, farming experiences and more.
The best time to visit the farm varies, but you can keep up to date with their harvesting schedule via the Jozankei Farm blog.
Another farm worth visiting on your stay is Yamamoto Sightseeing Orchard. Strawberries, cherries, blueberries, plums, peaches, prunes, grapes, apples, chestnuts and pears are all available for picking here. They even provide a handy guide for picking season.
And if you're on a bit of a fruit-picking rampage, then also check out Sakuranboyama Sightseeing Farm, Sobetsu Fruit Village, Maruzen Sato Orchard and Asadaen Farm.
5. Enjoy the Sapporo Autumn Fest
The Sapporo Autumn Fest is where agriculture, livestock, processed food, wine, sake and more all come together to create a foodie's dream in one central location at Odori Park. Held each year at the beginning of autumn (September), the festival brings together everything that makes up Hokkaido local cuisine, allowing guests to sample the best Hokkaido has to offer, as well as select food and beverages from around the globe.
The festival is broken up into 8 main sections, the first of which being a recreation of Germany's Oktoberfest. Not only do the Japanese and German craft beers flow, but traditional German beer food is served while folk music fills the air.
The remaining sections include seasonal produce and dishes, ramen noodles, fine dining and wine, cheese, wine and alcohol, Hokkaido's delicacies, meat, beer and dessert, and world cuisine.
6. Experience local culture at the Marimo Matsuri
For a slice of tradition, make sure to check out the Marimo Matsuri, held annually in early October at the hot spring district of Lake Akan. The festival is hosted by Hokkaido's indigenous community, the Ainu people, and aims to encourage the awareness and conservation of the marimo algae found in Lake Akan.
During the festival, you will witness Ainu priests blessing the algae and talking of the importance of conservation and the history and significance of the algae to Japan. Traditional Ainu dances take place, folk songs are sung, prayers are recited and come nightfall, the 1,000 torch parade awes bystanders as the Ainu people walk the streets carrying flaming torches. The festival ends with a bang, literally, with a stunning fireworks display over Lake Akan.
For more information on Ainu culture, head to Ainu Kotan, where you will find a museum that showcases Ainu crafts and artefacts and puts on traditional Ainu dance performances for guests. The street is also lined with souvenir shops selling a large variety of Ainu crafts to take home.
7. See Japanese Cranes at Kushiro-shitsugen National Park
The Kushiro Marshland is the largest wetland in the whole of Japan and is best known as the home of the endangered Japanese Crane. These beautiful creatures can be viewed year-round in the park, but the best time to see them is in the winter (February and March) as they gather at designated feeding sites.
There are three feeding stations in the park, Tancho Observation Center, Tsurui Ito Tancho Sanctuary and Tsuruimidai. Tancho Observation Center has the most facilities and is also in close proximity to the Akan International Crane Center, which includes an English-friendly museum where you can learn about the history and ecology of the cranes. Before you visit the feeding stations, make sure to research what times of the day the feedings take place, as they only occur once or twice per day.
While you are able to visit Kushiro-shitsugen National Park via public transport, the best way to get there is by car. Driving will allow you to stop by Otowa Bridge in the morning before your visit to the park centres. This is where the cranes go to roost, so you will be able to see them roaming around freely without the groups of tourists and photographers getting in the way.
8. View the rich autumn colours at Daisetsuzan National Park
Daisetsuzan National Park is an outdoor lover's dream. As the largest national park in Hokkaido, it is the perfect spot for hiking, viewing the stunning displays of autumn leaves, seeing the first snow in winter, and to see the local deer and brown bears.
The best place to start exploring is from Asahidake Onsen, where you will be able to gather more information on the park at the visitor centre and venture out through the village and then through the pathways that surround Mount Asahidake.
Whether you are into hiking or not, there are many options for exploring the park. For the beginner, there are a few scenic 30-60 minute walks that pass a variety of natural landmarks, such as sulfurous vents and ponds, as well as ones that rope around the small village. For those looking for a challenge, you are able to trek to the summit of Asahidake in about two hours and continue on to the 1-2 day trek to the summit of Kurodate, finishing up in Sounkyo Onsen. You can check out a full English guide to all of the hikes available here.
Spring and Summer
9. Wander through beautiful and vibrant natural beauty in Hokkaido's flower fields
If you're travelling in Japan in the summer, then Hokkaido is hands down the place to be. Not only will you escape the summer heat, but also the dreary rainy season throughout June and July. The icing on the cake is that you will also get to experience the vibrant and lush flower fields found in Hokkaido.
Found mostly in Furano and Biei, these flower fields have everything from lavender, tulips, pansies, poppies and sunflowers to peonies, lupine, salvia, marigold, dahlia and Japanese anemone. Shikisai-no-oka is the best place to visit if you are looking to see the rainbow fields shown above. The gardens span 7 hectares and boast around 30 different varieties of flowers over the property. If you happen to visit outside of the blooming season, the gardens also offer a stunning green season and run snow sledding activities in winter.
Another must-see when visiting Hokkaido is Farm Tomita. While it also displays a stunning range of flower fields, the main event here is the lavender. From early to mid-July, you can view the stunning expanse of lush purple flowers decorating the hills. In celebration of the event, Farm Tomita serves its signature lavender soft serve ice cream, an absolute must-try during your time in Hokkaido. Made from the best milk in the country, these soft serves have no equal when it comes to its creamy texture and delicately sweet taste.
If you're feeling adventurous, then be sure to visit the rolling pink hills at Takinoue Park in northern Hokkaido, as well as in Higashimokoto Shibazakura Park in north-east Hokkaido.
11. Visit the northernmost part of Hokkaido, Cape Soya
Not including the Kuril Islands (which Japan and Russia have been fighting over since World War II), Cape Soya is the northernmost part of Japan, commemorated with a triangular monument right at the tip of the country. The surrounding area honours a vast number of historical events, with more than 12 different monuments scattered throughout the area. A few commemorate different tragedies that took place during the modern wars, while others celebrate the achievements of Hokkaido's agriculture industry and local musical talents.
There is not much to do in Cape Soya other than to brave the wind, enjoy the spectacular views and ponder at each monument, but it is an enticing experience for the history buff and those eager to boast at having been to the top of Japan.
Before you leave, you can visit the nearby souvenir shops and local food stores to pick up something to remember your trip.
11. View the beautiful coastal landscape at Rishiri-Rebun-Sarobetsu National Park
When you have finished your visit to Cape Soya, make sure you jump across to Rishiri and Rebun Islands to explore the coastlines of Rishiri-Rebun-Sarobetsu National Park. The parks boast a stunning, untouched natural beauty, and offer diverse hiking trails, natural wonders and small fishing villages to explore.
Rishiri Island is best known for encompassing Mount Rishiri, a dormant volcano standing at 1,721 metres tall, while Rebun Island is known for the beautiful alpine flowers that bloom from June to August, some of which being completely exclusive to this part of the world.
For those looking to hike the stunning landscapes, Rebun Island has 4 distinct trails to choose from; the 4-hour course, 8-hour course, Rebundake course and the Momoiwa course. I recommend undertaking the 4 or 8-hour courses, as they both pass by the most stunning coastal sceneries at Gorota Beach, Cape Gorota and Cape Sukoton. If you're looking for a challenge, head over to Rishiri Island and undertake the day-long climb to the top of Mount Rishiri, where you will be met with stunning views of the green landscape and vast ocean.
12. Experience breathtaking views of the Shakotan Peninsula
If you're looking to witness the natural beauty of Hokkaido without straying too far from Sapporo, then a road trip to Shakotan Peninsula is the perfect solution. Located just two hours from Sapporo, the scenic coastline that makes up the peninsula offers incredible views of expansive green hills, deep blue ocean and commanding rocky terrain.
When undertaking this trip, make sure that Cape Kamui is your end goal. A stunning sight of greenery, rocks and ocean, Cape Kamui is a very thin and steep cliff where you are able to hike out to the edge of the land to meet the ocean. If you're not a hiker, don't worry! The walk will only take about an hour, and is clearly marked with a pathway and fence so you won't fall off the cliff!
To all the ladies out there, make sure you notice the gate you walk through to enter Cape Kamui. The sign literally translates to "women are forbidden". This comes from a local folktale of an indigenous Ainu woman whose lover left her by boarding a boat at Cape Kamui. Struck with jealousy and anger, the woman cursed the rock, saying that any boat that tried to pass Cape Kamui with a woman on board would sink. She then jumped into the sea, and as legend tells us, transformed into Kamui Rock. Because of this legend, women used to be forbidden from setting foot on Cape Kamui, however, this is no longer the case.
On your way back, take the scenic route via Cape Shakotan and Cape Syakotan for more incredible views, and try to stop off at Yoichi and Otaru. Yoichi is where you will find the fruit picking farms mentioned in point 4, as well as Nikka Whisky Yoichi Distillery. If you have a few days spare, I recommend staying in Otaru before making your way back to Sapporo. More info on what to do here can be found in point 21.
13. Explore Shiretoko National Park
Shiretoko National Park is the perfect destination for the hiking enthusiast. As one of the most untouched national parks in Japan, roads stop about 3/4 through the park, leaving the rest of the land for the eyes of those game enough to trek through the wilderness and discover its beauty. The park boasts a diverse range of native animals, such as brown bears, deer and foxes.
Thankfully, most of the main attractions in the park are accessible via car. Just five minutes south of Utoro you will find Oshinkoshin Falls, named one of Japan's best 100 waterfalls. A more tourist-friendly sight, the falls have a viewing platform that brings you just meters away from the water, and also has toilets, a parking lot and a souvenir shop close by.
Also worth noting is the Shiretoko Five Lakes, which are literally five lakes that were formed after an eruption from Mount Io awoke the underground springs. This incredible landscape offers views of the beautiful greenery and imposing mountains that make up the park, as well as glimpses of the native plants and animals that call Shiretoko home.
Access to view the lakes differs depending on the time of year you visit. From the day the park opens in April until the 9th May, visitors are able to pay 250 yen to undertake the 40-minute or 90-minute one way hikes around the lakes individually, while those who visit in peak bear season from the 10th May to the 31st July will have to reserve their place in a three hour, 5000 yen guided group tour. From the 1st August to October 20th, guests are again allowed to undertake the 40 and 90 minute walks, while visitors after 21st October are able to walk the trails freely without guides or entrance fees. Make sure to plan your trip and to check the park's website for updates, as the trails sometime close due to bear sightings.
Alternatively, if you'd rather see the beauty of the park from the comfort of a boat, then jump on one of the sightseeing boat tours that depart from Utoro between April and mid-November. You will be able to catch a glimpse of some of the sights in the park, including Furepe Waterfall, and view the peninsula all the way up to Cape Shiretoko at the tip of the park. In late February, you are also able to take these boat tours to view the Shiretoko Drift Ice.
14. View the stunning Shirogane Blue Pond and Shirahige Falls
If you owned an Apple computer in 2012, then you might recognise Shirogane Blue Pond as one of the default wallpapers released as part of OS X Mountain Lion. Located via a short 5-10 minute walk from the closest car park, the pond is characterised by its stunning deep blue waters due to the natural minerals absorbed from Mount Tokachidake. While the pond is arguably best viewed between mid-May and late June, each season brings a new shade of beauty to the scenery, so it is a worthwhile journey no matter when you plan to visit.
As beautiful as Shirogane Pond is, it is, after all, just a pond, so to make your trip worthwhile, make sure to take the 5-minute drive to stop by Shirahige Falls. This beautiful waterfall comes from underground water sources and is connected to the Biei River, Shirogane Onsen, the Iou River, and the Shirogane Blue Pond. Parking is available at Yumoto Shirogane Onsen Hotel, which is built just above the waterfall. If you're looking to explore, you also have Shirogane Shrine right across the road.
15. Visit three beautiful crater lakes at Akan Mashu National Park
Akan Mashu National Park is best known for its three crystal clear crater lakes; Lake Akan, Lake Kussharo and Lake Mashu.
You might remember Lake Akan from the Marimo Matsuri in point 6. Here you will be able to visit Akankohan Eco Museum Center to find more information about the National Park and explore the onsen town of Akankohan. Located along the lake are many ryokans that have baths with stunning views of the water. If you are not a guest of these ryokans, some will still let you bathe during the day for a fee. If you wish to view the National Park from Lake Akan, you are able to board an hour-long sightseeing boat from Akankohan.
Similar to Lake Akan, the banks of Lake Kussharo are scattered with onsens and smaller tourist attractions. The onsens found here are more connected to the lake itself, but also provide less privacy, both from the opposite sex and in general, as some are open air. Other than the onsens, you can also check out the Ainu Museum at the southeastern corner of the lake.
Last but definitely not least, Lake Mashu is arguably the most beautiful lake in Japan. Known not only for its beauty but for the clarity of its water, it is no surprise that visitors are not allowed anywhere near the water itself. Instead, Lake Mashu has two observation decks to experience the view, confusingly called observation deck 1 and 3 (I wonder what happened to observation deck 2…?)
If you're in the area, make sure to also visit Kaminokoike Pond. It's a small attraction, but you'll never see, or come so close to, clearer water in your life.
16. Visit Onuma Quasi-National Park
Not quite grand enough to be called a national park, Onuma Park is a beautiful little spot decorated with two small lakes, bright greenery and scenic views of Mount Komagatake.
Seeming more like a vibrant camping ground than a National Park, there are plenty of activities to entertain during your visit, such as bike riding, canoeing, walking, golf, fishing, tennis and of course camping.
It is most convenient to visit Onuma Park on your way from Hakodate to Sapporo, or via a day trip from Hakodate. For more information on Hakodate and what to do there, check out point 19.
18. Touch the clouds at Unkai Terrace, Hoshino Resorts Tomamu
One of the most magical experiences you can have in Hokkaido is floating in the clouds at Unkai Terrace. Open from mid-May to mid-October each year, guests arrive early in the morning and take a gondola to the terrace, located near the Hidaka and Tokachi mountains, to view the incredible "Sea of Clouds".
For those of you that aren't afraid of heights, there is a mesh-like structure called the "Cloud Pool" that hangs over the cliff and into the clouds where you can sit and feel like you are floating in the sky. From late 2018, you will also be able to sit amongst the clouds at the "Cloud Bar" and lounge on cushions made to look like water droplets in the "Cloud Bed" section.
After you have viewed the clouds in style, shake off the chill of the altitude at Tenbou Cafe. Their delicious range of teas, coffee and soups will warm you up in no time.
18. Sapporo Art Park

Similar to the Hakone Open Air Museum, the Sapporo Art Park is a combination of a sculpture garden, Art Museum and Craft Hall, making it the hub for studying, viewing and creating art in Sapporo. While the sculpture garden exhibits permanent displays of varying sculptures and installations, the Art Museum hosts up to seven different exhibitions each year, with artists ranging from local talents to internationally renowned creatives. Available for visiting from late April to early November, the sculpture garden boasts 74 different works by 64 artists, and are enhanced greatly by the additional beauty of the surrounding flowers and trees.
All Year Round
19. Visit the city of Hakodate
Characterised by its distinct international feel, Hakodate is Hokkaido's third largest city and can be found at the southernmost part of the island. The city was one of the first to open its doors to international (namely western) trade after Matthew Perry and his American Black Ships ended the "sakoku" (closed country) policy by force in 1853. Shortly after America's success in forming a trade relationship with Japan, Russia, Britain, France and Holland soon followed, resulting in the strong Western influences in the architecture and overall feel of the city.
This western-inspired aesthetic can still be seen today, most notably in one of the city's most famous sights, Fort Goryokaku. This star-shaped citadel was built in the decade succeeding Perry's arrival in order to protect Japan from Western threats. It remained as a military stronghold until the early 1900s, when it was opened to the public. It is now seen as one of the best areas in Hokkaido to see the cherry blossoms in spring and can be viewed in full from the observation deck in Goryokaku Tower.
More western-inspired sights can be seen in the Motomachi neighbourhood, which is the home of the breathtaking Motomachi Roman Catholic Church, as well as near the Kanemori Red Brick Warehouses; commercial buildings that hold shops, restaurants and lots of local history.
A trip to Hakodate would be incomplete without sampling the local dishes and fresh seafood the city is famous for. Hakodate is the birthplace of shio (salt) ramen, one of four main categories of ramen. To try some, make sure to visit Jiyoken, a humble restaurant with a history dating back to 1957. If you'd prefer something a little more mainstream, then you'll find the ramen chain Ajisai inside Hakodate station. The best place to try the seafood is at the Hakodate Morning Market. Opening bright and early at 5am, it is customary for tourists to begin the day with a kaisen don (seafood rice bowl) for breakfast before eating their way through the 250 stalls that make up the market until closing time at 1pm.
Finally, after exploring all the sights in Hakodate, take a trip up to the observatory at Mount Hakodate to experience one of the most spectacular night views in Japan. The city will delight you with a gorgeous light show, illuminating the busy streets and spectacular bays below.
20. Explore the many sights of Maruyama Park, including Hokkaido Shrine
Similar to Ueno Park in Tokyo, Maruyama Park in Sapporo is home to many different sights for the whole family to enjoy, such as Hokkaido Shrine, Maruyama Baseball Stadium and Maruyama Zoo.
Primarily, the park is known for its natural beauty, with 6 hectares of untouched forestry leading up to Mount Moiwa. During May, the cherry trees surrounding Hokkaido Shrine put on a spectacular show, causing locals to flock to the park for their hanami parties, while in September, the maple trees come to life in a stunning display of gold and red foliage.
Maruyama Park is also known as a hub for Sapporo's sports fans. Not only does the park house a major baseball stadium, but also provides guests with a range of sports facilities such as a public baseball field, tennis courts and a track and field oval.
And finally, for the kids, we have Maruyama Zoo. Over 1,000 different animals call the zoo home, the most popular of which is the adorable polar bears, snow monkeys, native Japanese wolves and red pandas. For a more immersive experience, make sure to take your kids to the petting zoo, where they will be able to feed the chickens, pet the sheep and chase the geese.
21. Roam the canals and eat sushi in Otaru
Otaru is a small harbour city located just 45 minutes from Sapporo. Similar to Hakodate, Otaru was the former home of many Western traders, so you can still see many Western-style warehouses, homes and commercial buildings scattered throughout the city. One of the best places to witness this is at Otaru Canal, located just 10 minutes away from the city's main station. This remarkable district is a stunning sight to see both night and day, especially in winter when the canal is lit with hundreds of lanterns during the Otaru Snow Light Path Festival. As you leisurely stroll along the canal, you will also be able to enjoy the many shops, restaurants, museums and craft stalls that line your path.
If you're a sushi lover, then Otaru Sushi Street is a must see during your visit. Sushiyadori Street consists of around 26 different sushi stores serving the freshest seafood caught by Otaru's veteran fisherman. You can't really go wrong when it comes to choosing a restaurant, but popular choices include Masazushi, Nihonbashi and Shikama. If you haven't had a chance yet, make sure to also try the kaisen don (seafood rice bowl).
For more sightseeing fun, make sure to visit Sakaimachi Street, where you will find plenty of souvenir shops, restaurants and cafes as well as Otaru's Music Box Museum, the famous Kitaichi Glass shop, outlet and glass-making workshop and the Museum of Venetian Art.
22. Immerse yourself in the history and taste of Sapporo Beer at the Sapporo Beer Museum and Beer Garden
Sapporo Beer Museum is the only museum in Japan dedicated solely to beer. Here, you will learn about the history of Japan's beer industry as a whole as well as the history of Sapporo Breweries Ltd, going in-depth into the beer-making process, how Sapporo makes its own beers, and how beer was introduced to Japan by Germany in the late 1800s.
Connected to the museum is a large beer garden, holding 5 different restaurants serving a range of Western and Asian cuisine as well as, of course, Sapporo Beer. The restaurants specialise in crab and sushi dishes, as well as the famous "Genghis Khan" dish, comprising of grilled lamb and mutton, vegetables and Sapporo Beer Garden's special sauce. Most restaurants offer reasonably priced all-you-can-eat and all-you-can-drink options, with prices ranging from around 3,000 yen to 7,000 yen.
23. Indulge in the best ramen in Hokkaido at Sapporo Ramen Republic
On the 10th floor of the ESTA building next to Sapporo Station you will find Sapporo Ramen Republic, a combination of the 8 most famous ramen stores in Hokkaido; Shirakaba Sansou, Misono, Ajisai, Yoshiyama Shouten, Shodai, Sora, Ramen Jun, and Baikouken.
Each shop specialises in one of the four different kinds of ramen; miso (soybean), shio (salt), tonkotsu (pork bone) and shoyu (soy sauce), and comes from a different part of Hokkaido.
Shirakaba Sansou – best known for their miso ramen, which has a strong taste due to the use of garlic and sesame oil.
Misono – as the name suggests, they also specialise in Miso ramen; however, unlike most ramen restaurants, their ramen is topped with grilled pork instead of chashu (sliced pork marinated in soy sauce). They also add ginger to their miso broth.
Ajisai – as mentioned earlier in my summary of Hakodate, Ajisai is one of the best places in Hokkaido to try shio ramen.
Yoshiyama Shouten – serving both tonkotsu and miso ramen, Yoshiyama Shouten is best known for the strong sesame flavour in their dishes.
Shodai – this restaurant serves Otaru's take on a shoyu ramen, comprising of a thick, slow-cooked broth made of two different kinds of miso. A spicy version is also available!
Sora – representing Sapporo, Sora serves a thick, garlic-infused miso ramen.
Baikouken – specialising in shoyu, Baikouken serves Asahikawa style ramen.
Ramen Jun – As the only entry not to originate from Hokkaido, Ramen Jun serves a delicious and rich Niigata style ramen.
Please note: the restaurants in Ramen Republic have a quick turnover in order to represent the best ramen restaurants in Hokkaido at any one time. This list, while correct at the time of writing, may not accurately represent the stores available at the time of your visit.
Just know that no matter what restaurant you choose, you will undoubtedly have a spectacular meal!
24. Eat Soup Curry
Originating in Hokkaido, soup curry is a flavourful curry dish with a soup-like consistency, served with vegetables, rice and meat.
The most famous place to try this dish is Garaku, near Tanukikoji Station in Sapporo. To make their curry, Garaku start with a broth made from chicken and pork bones and proceed to add 21 different herbs to create their signature flavour. Three of their most popular dishes include the 'Tender Chicken Leg and Vegetables' curry, ' Kamifurano Lavender Pork Buta-Shabu' curry, and the 'Seven Mushroom Kinoko No Mori' curry. For those who love some spice, Garaku has 40 different spice levels for you to choose from. Choose wisely!
25. Enjoy the nightlife in Susukino, Sapporo

When you're exhausted from all of the hikes, nature trips, food comas and animal sightings, make sure to head back to the city and enjoy some good old-fashioned Japanese nightlife.
Susukino is the place to be when you are staying in Sapporo. Not only is it a central location where you can easily travel to each place mentioned on this list, but you are also surrounded by the best Sapporo has to offer. You don't have to walk very far to come across a vibrant range of buzzing izakayas, bars, movie theatres and karaoke spots.
Similar to Kabukichō in Shinjuku, Sapporo's entertainment district also includes a range of red light entertainment venues, pachinko parlours, love hotels, nightclubs and other establishments aimed at adult entertainment.
–
What are your favourite things to do in Hokkaido? Have you visited any of the places I've mentioned? Make sure you let me know in the comments below!
Pin post for later: