One Day in Yokohama: A Complete Guide
Yokohama is a harbour city located 29km south of Tokyo's city centre. Interestingly, it is also Japan's second-largest city, with just over a million more residents than Osaka! The city may not be as well-known as the big three (Tokyo, Osaka, Kyoto) when it comes to tourism, but it is by no means lacking! Yokohama is a uniquely modern city with a stylish, international feel.
As one of Japan's main international trade ports, the city hosts a wide range of cultural sites, showcasing a diverse range of architectural styles, cuisines and art. Many foreign businesses have a presence in Yokohama as well, truly making it a cosmopolitan city. The best part is that the city and its people are very stylish, but laid back, giving you the perfect escape from the hustle and bustle of Tokyo whilst never really leaving the city.
Getting there
Yokohama is most easily accessed by train and can be reached by a short 27-minute ride from Tokyo Station. Simply head to platform 10 of the JR line and catch the Tokaido Line train bound for Kozu, Atami or Ofuna. It will cost you ¥470 one way or ¥940 for the round trip.
Yokohama Station is unlikely to be the closest station to your first destination, so to determine your connecting train, I suggest looking up your trip on Hyperdia.
Things to do
Most of the main attractions in Yokohama are very close by, so I found myself walking from place to place enjoying the scenery and the beautiful day (although it did rain a little in the evening!) Walking is probably my favourite way to get around Japan, as it allows you to really stop and take in your surroundings at a pace that ensures you can really soak it all in.
With that in mind, the below itinerary focuses on the main area of Yokohama, but I've also included some honourable mentions if you're keen to explore more of the city over a couple of days.
So, let's get into my top picks for a spectacular day in Yokohama!
1. Ginza Cozy Corner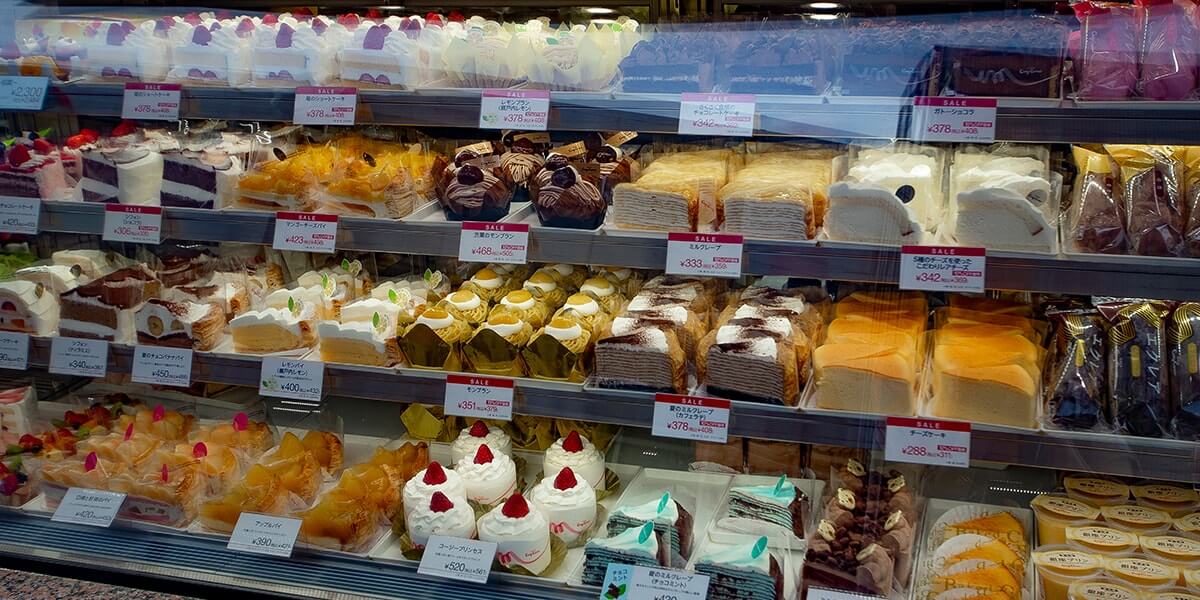 As soon as you walk out of Kannai Station, you'll see Ginza Cozy Corner. It was unfortunate for me that I came across this place so early in the morning, but when I saw these desserts, I just couldn't resist. FINALLY, I had found a place where I could purchase Japan's famous fluffy cheesecake and Christmas cake by the slice instead of as a whole cake! So of course, I bought them… It was a bit annoying carrying them around, but it was worth it to later sit by the water at Yamashita Park, look out into the ocean, zen out and enjoy something sweet after lunch.
2. Chinatown
Yokohama's Chinatown is the largest in Japan and includes hundreds of restaurants, stores and entertainment zones to keep you occupied for hours on end. The star of the show though is definitely the food. As you walk down the street, you'll be spoiled for choice trying to decide what to eat, with stores offering mouth-watering street food, yum cha, soups, set meals, seafood and dessert. I was honestly a bit overwhelmed by the number of restaurants and stalls there were in such close proximity, especially since a lot of them have very similar offerings and are all a sensory overload with massive signs, huge food and menu displays and ornate Chinese architecture. In the end, I couldn't resist the super kawaii (cute) strawberry panda steamed bun and the fried sesame ball, both for around ¥100. Both were absolutely delicious, but wow, that sesame ball was something special. I definitely recommend picking up a few while you are there!
Next was lunch, and it was dizzying trying to decide where to go. Again, quite a lot of the restaurants had very similar menus and (as an English speaker) didn't offer me much information I could read. After walking for what felt like hours through the labyrinth of streets, I finally caved when a staff member ushered me from where I was standing, down a street or two and into their restaurant where I was promptly seated and offered the menu. While the staff did not speak a lot of English, I found I was able to work it out because I am already familiar with yum cha from the restaurants I have been to in Australia. Most items I was able to order due to the look alone (each menu item had a corresponding picture), however, if there was anything I was unsure of, I used Google's live translation app to see what they were. It wasn't the easiest ordering experience, but it worked, and completely worthwhile when I was given the food. *drools*
After lunch, it started to pour, so I took the opportunity to check out the souvenir shops, which included commonly seen Chinese themed items such as golden lucky cats, jade sculptures, charms, dragons, traditional dresses, lion dolls, and panda merchandise. My favourite souvenir was undoubtedly the absolutely stunning personalised artworks, where the artists would use every bright colour you could think of to paint either your name or Chinese characters of your choice whilst integrating lucky symbols and motifs to turn each individual character into an artwork in and of itself. Sadly, paper souvenirs are not too practical for a long-term traveller, so I look forward to getting one next time I visit!
If you are visiting Yokohama close to one of China's main holidays (for example, the Chinese New Year in February), then you will be able to attend their festivals and events which feature lion dancing, special foods and other activities as part of the celebrations.
3. Osanbashi
From Chinatown, take a stroll through Yamashita Park to arrive at Osanbashi, Yokohama's major international port/most stunning piece of architectural art. There's not much to do at this port but marvel at its structural beauty, but the art nerd in me thinks it is absolutely worth it. I felt like I was letting out my inner child by climbing up and down the various steps and curved slopes whilst taking in the tranquil view of the harbour. A big kudos to designers Alejandro Zaera Polo and Farshid Moussavi for turning something (usually) boring and practical into a work of art.
4. Red Brick Warehouse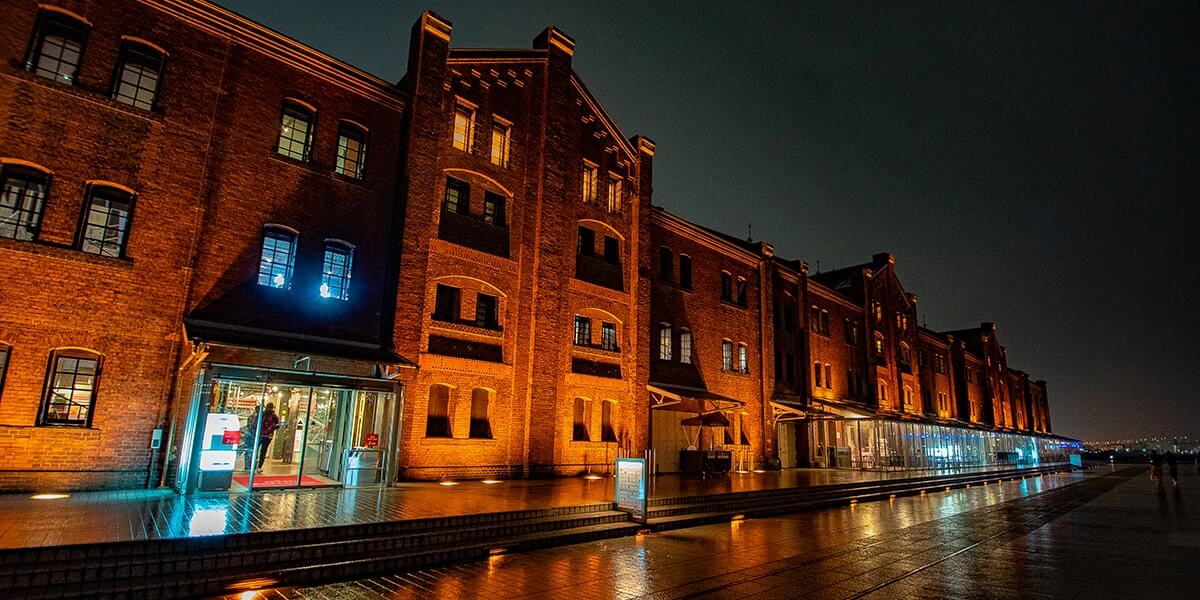 Time for my favourite attraction in Yokohama! The Red Brick Warehouses were built in the early 1920s and used as a customs inspection centre for all of the goods delivered to the harbour. Today, they are a trendy destination for couples and families alike with an exciting range of specialty stores, cafes, dessert shops, gourmet restaurants, modern eateries and casual bars.
I had such a good time browsing all of the fascinating stores, my favourite being the plastic food store which sold all of the different plastic pieces that restaurants use to display their products in their shop windows. There's nothing that screams "Japan" quite like a plastic food souvenir! A close second was a beauty store called Laline which sold a luxurious range of bath and skincare products that were scented using floral fragrances. A lovely staff member helped me to try everything in the cherry blossom range. As she cleaned, scrubbed and moisturised my hands, I couldn't help but feel a little more luxurious with every step. Again, long term travel plus a heavy suitcase prevented me from purchasing anything, but I will definitely be heading back for some of that delicious cherry blossom exfoliating scrub!
After browsing the stores, I moved on to the other attractions mentioned below but made sure to come back at night-time to see the warehouses lit up after dark. It was such a romantic atmosphere, so I definitely recommend coming here for dinner with your significant other so you can enjoy a wine and a delicious meal whilst gazing out onto the glittering harbour. It truly is picturesque.
There are many quality restaurants to choose from in the warehouses, such as bills, an Australian restaurant created by Melbournian Bill Granger. Whilst the dinner menu boasts a premium selection of Australian dishes, bills also prides itself on having the "world's best breakfast", so if you happen to be around in the early morning, a good Aussie breakfast is waiting for you!
Other restaurants include Kua'aina burgers (where I ate dinner), the Fisherman's Market (seafood buffet), and La Cocorico Café and Rotisserie. Lastly, for dessert, there's Granny Smith Apple Pie and Coffee (my dessert of choice!), Hawaiian Waffle Merengue, Yokohama Bashamichi Ice and Nana's Green Tea. For a full list of eateries, check out their website.
5. Cup Noodles Museum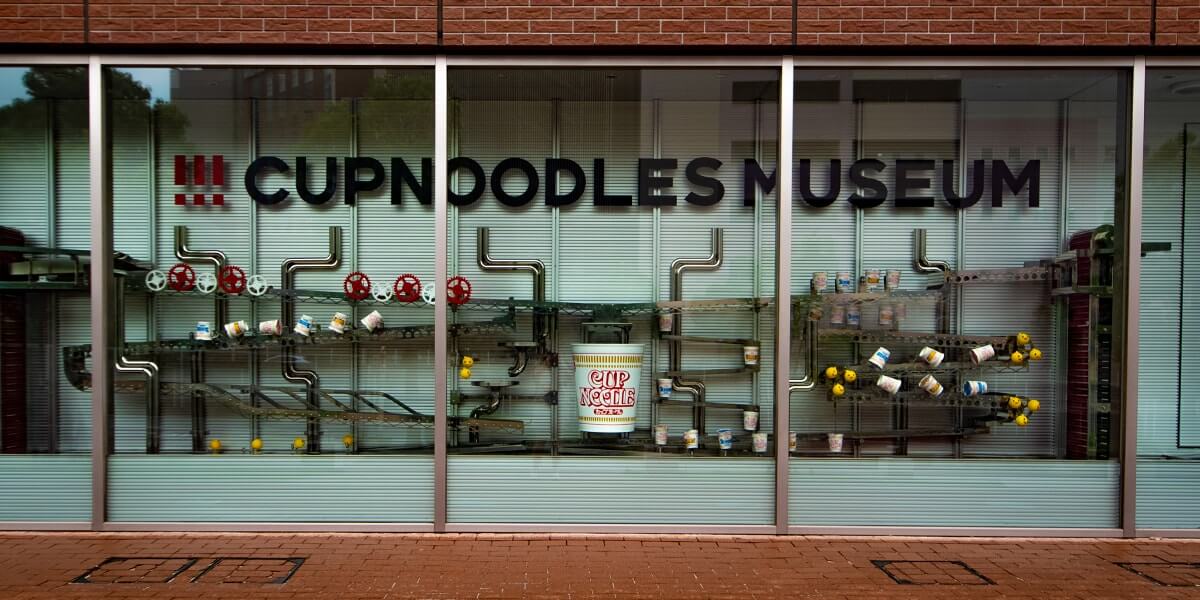 As the sister museum to Osaka's Momofuku Ando Instant Ramen Museum, Yokohama's Cup Noodles Museum is very similar, acting as a tribute to instant ramen creator, Momofuku Ando, whilst also offering an interactive cup noodle experience. Like the Osaka branch, the Yokohama museum allows you to make your own chicken ramen, design a personalised cup and view artworks and visual diagrams that convey the history of cup noodles and the ethos of its creator. Attractions unique to the Yokohama branch include a Cup Noodles amusement park, a "world noodles" food court and a cup noodles marble coaster that you can see displayed at the front of the museum.
6. World Porters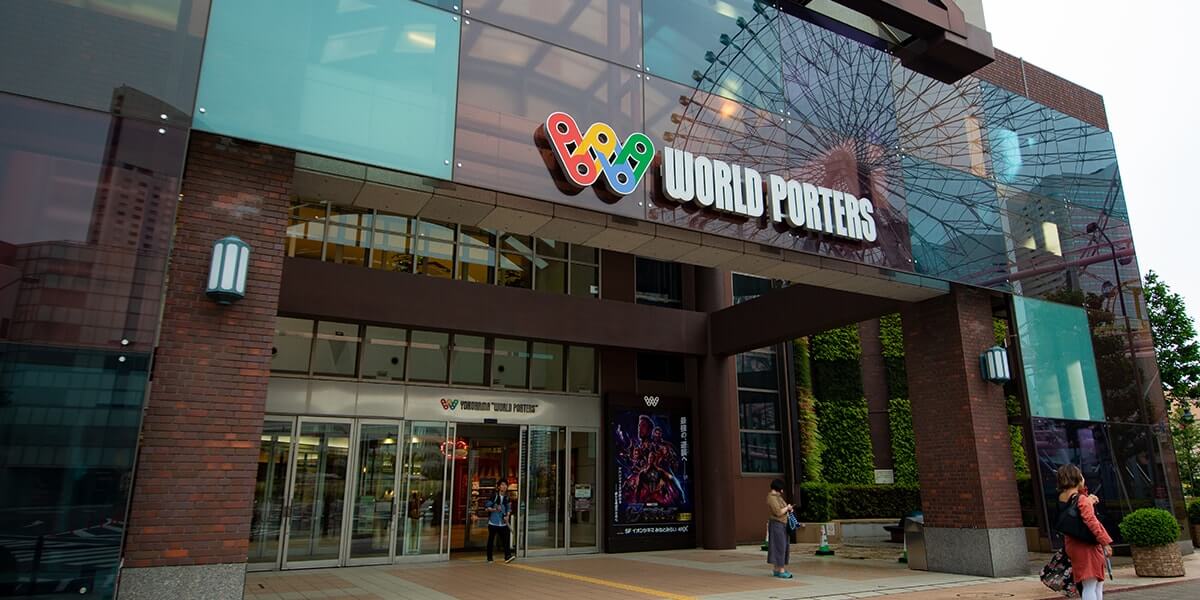 In between the Cup Noodle Museum and Yokohama Cosmo World is a shopping centre called World Porters. Unfortunately, I was running out of time and didn't get to explore the whole centre, however, I did see the incredible "foods world" section on the first floor which showcased different cuisines, franchises and specialties from all around the world. It even included a whole section from Hawaii called "Hawaiian Town" that showcased Hawaiian clothing, jewellery, coffee, shrimp dishes, diner meals, desserts, souvenirs, cosmetics and accessories.
The other six floors feature fashion goods, international brands, hobby and knick-knack stores, household goods, international restaurants, relaxation services and a rooftop garden.
7. Yokohama Cosmo World
Yokohama Cosmo World is a mini theme park located right on the harbour, whose Ferris Wheel is one of the most iconic parts of the Yokohama cityscape. The theme park is made up of three sections, where the main section, Wonder Amuse Zone, is located on the south-eastern side of the Kokusai Bridge, and the other two sections, Burano Street Zone and Kids Carnival Zone, are located on the north-western side. The park includes 32 attractions that are mainly targeted at children, so while it is the perfect destination for the young family, I also had a great time there as a solo traveller.
The Ferris Wheel is an absolute must-do so you can experience the spectacular views over Yokohama City and Tokyo Bay. The park is open from 11am to 8/9/10pm (depending on the day), so you will be able to ride the Ferris Wheel during the day and after dark. As for what time I recommend, it's really up to you. Of course, you get the added bonus of the beautiful city lights at night, but I really enjoyed being able to marvel at the Yokohama skyline as far as the eye could see during my mid-afternoon ride.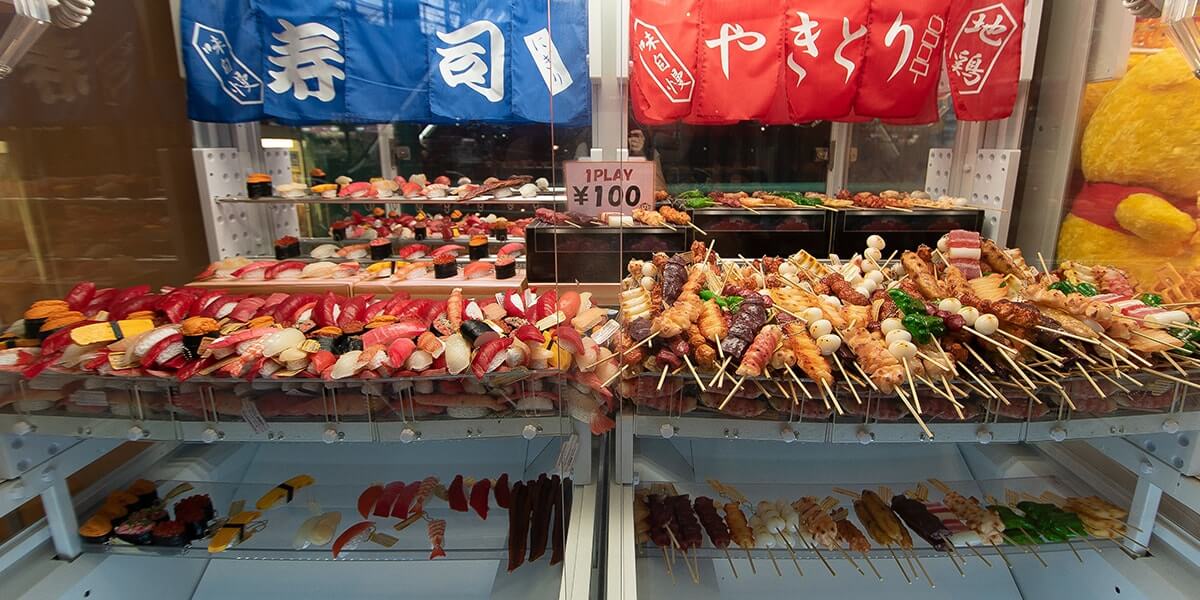 Their arcade is also definitely worth a visit. It included some personal favourites, such as the purikura booths and the taiko drumming game, but the absolute highlight was one of the claw games where you aimed to win plastic versions of your favourite sushi and Japanese skewered foods (such as yakitori and dango).
8. Landmark Plaza
Landmark Plaza is the large shopping centre that surrounds Yokohama Landmark Tower Sky Garden (observatory). The more high-end complex contains a mix of Western and Eastern stores, most notably including Western favourites such as Gap, H&M, Banana Republic, Samsonite, Tumi, Swarovski and Aesop. For the fellow character lover, there's also a Lego store, Studio Ghibli Store and a Jump Shop!
The interior of this building is so stunning, I'm at a loss for words on how to describe it. Just know it will be well worth your while to check it out!
9. Yokohama Landmark Tower Sky Garden
If the views from the Ferris Wheel were nothing special to you, just wait until you see the views from the Yokohama Landmark Tower Sky Garden! Contrary to its name, there are no gardens here, this is just the name applied to some of the observatory towers in Japan. During the day, you will be able to see all the way to Tokyo, and if you're very lucky, you'll also be able to see Mount Fuji! At night, you'll witness a stunning light display as every building as far as the eye can see shines as bright as a star, reflecting beautifully off of Tokyo Bay.
At 273 metres, this observatory sits on top of the second largest building in Japan. And if you're sensitive to a change in air pressure, take care! The elevator to the observatory is the fastest in Japan, taking you up to the 69th floor in just 40 seconds! Once you're there, you not only get to enjoy the 360-degree views of the city, but there is also a café that serves light meals, soft drinks and alcohol, as well as a souvenir store providing knick-knacks relating to the city and the tower.
10. Marine & Walk Yokohama
Not to be overlooked by its imposing neighbour (the Red Brick Warehouses), the Marine & Walk Yokohama is a beautiful outdoor mall showcasing quirky, modern fashion boutiques, restaurants, and cafes. If you're taking a romantic night-time stroll along the water near the warehouses, I highly recommend making your way through the Marine & Walk on your journey. The fairy lights throughout the complex set the perfect romantic atmosphere, while the painted wings on the wall are the perfect photo op for you and your partner.
Honourable mentions
There's a lot you can fit into a day in Yokohama, but it wasn't nearly enough! Here's a list of places I wish I could have visited but didn't have the time:
Yokohama Stadium – Japan goes absolutely nuts for baseball, so whether you visit this stadium or another, I recommend for all sports fans to try and see a baseball game while visiting Japan. While it's not my cup of tea, the atmosphere at these games is truly remarkable.
Pokémon Center Yokohama – Yokohama's Pokémon Center is no different compared to the others around Japan, but it is still a must see for any die-hard fan. The centers are a lot bigger than the Pokémon Stores, so it's always a treat to see the huge collection of merchandise for sale!
Sankeien Garden – this traditional Japanese garden was a bit too far from the city centre for my liking but is usually on top of other people's lists of things to do in Yokohama. While it is absolutely beautiful, I think I'd prefer to visit in autumn to see the stunning koyo leaves on display!
Shin-Yokohama Ramen Museum – again, this museum was a bit too far from the city centre for me to visit but is perfect for any ramen lover visiting Yokohama. The museum details the history of ramen and its varieties, while also including a night-market themed food court with restaurants that serve ramen varieties from all over Japan. As a special treat, the food court also includes ramen restaurants originating from Europe and the US!
Yokohama Noh Theater – Noh Theater is one of the top three cultural performance styles in Japan, therefore being a highly-respected, ancient and important part of Japanese culture. I'm kicking myself that I wasn't able to go, but it's on the top of my list for next time!
Yokohama Hakkeijima Sea Paradise – this is so far away that it could also be on a list of things to do in Kamakura! There are certainly other, better theme parks and aquariums close by (such as Fuji Q Highland and Tokyo Sea Life Park respectively), however if you're looking for an all in one, or something more off the beaten track, it might be worth considering for your travels.
–
What are you thinking of doing when you're in Yokohama? Have you visited any of the places I've mentioned? Make sure you let me know in the comments below!
Pin post for later: