Japan's Regions and Prefectures
Japan is an island nation located off the east coast of Korea and China. Surrounded by the Pacific Ocean, Japan is made up of a total of 6,852 islands that hug the eastern shoreline of Russia, China, North Korea, South Korea and Taiwan.
Japan's Regions
Japan's main islands are separated into 8 regions; Hokkaidō, Tōhoku, Kantō, Chūbu, Kansai, Chūgoku, Shikoku and Kyūshū.
These are further broken up into 47 prefectures, outlined below. Each prefecture has unique qualities and features a different aspect of Japanese culture, and is substantially different in terms of climate and ideal times to travel.
Below you will find the key characteristics of each region, where to go, and when to travel. Enjoy!
Hokkaido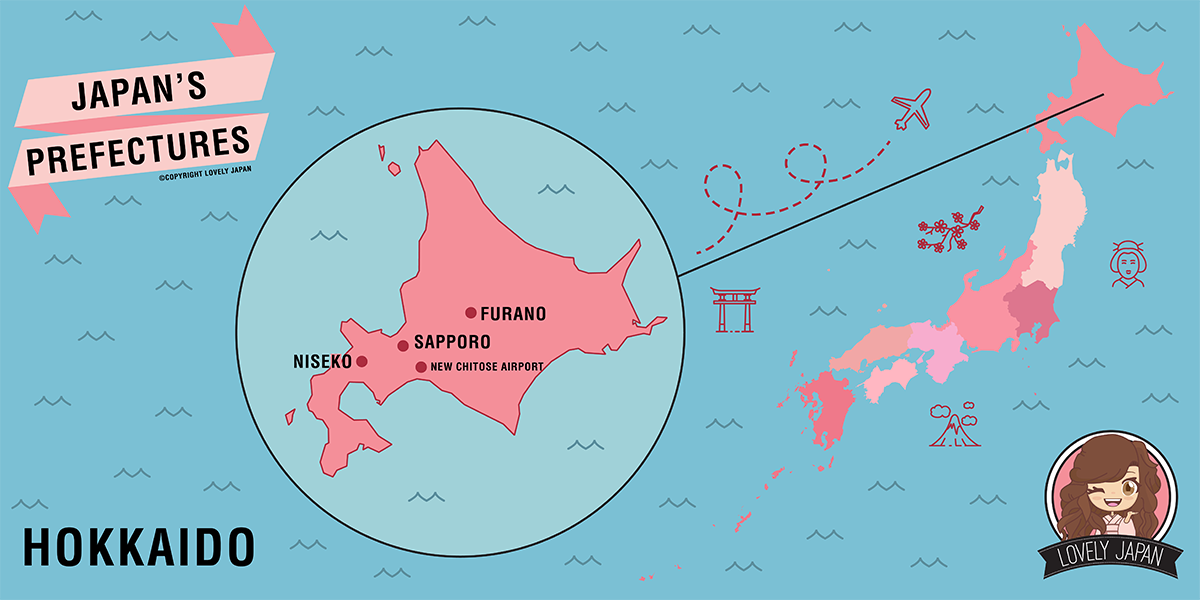 Famous for:
One of the best snow destinations in the world
Weather:
Hokkaido is the coldest region of Japan. Snow falls from November – April, and summers are mild compared to the rest of Japan. Unlike most of Japan, Hokkaido is not affected by the rainy season.
Best time to travel:
While most people travel to Hokkaido in winter, it is a fantastic place to visit all year round. In summer and spring, Hokkaido's many flower fields are all in bloom, and in spring you can view the stunning koyo (autumn foliage).
Main City:
Sapporo
Make sure to eat:
Seafood (especially at Otaru Sushi Street), lavender soft serve ice cream (Furano lavender fields + the best milk in Japan = oishii!!), Ramen (at Ramen Yokocho and Sapporo Ramen Republic).
Where to go/What to do:
Visit Sapporo for the Sapporo Snow Festival (held every February), and the Sapporo Beer Museum
Ski at one of their famous snow fields – including Niseko, Tomamu, Rusutsu, Furano, Kamui, Asahidake, Sahoro, Moiwa.
Go to a hot spring/onsen – Noboribetsu, Jozankei Onsen, Toyako onsen (Toya), Yunokawa onsen, Sapporo Teine, Kiroro.
Visit the flower gardens – Shikisai-no-oka, Farm Tomita, Shibazakura Takinoue Park
Explore one of the six huge national parks on the island of Hokkaido – Shiretoko National Park, Rishiri-Rebun-Sarobetsu National Park, Daisetsuzan National Park, Shikotsu-Toya National Park (Lake Toya), Akan National Park (Lake Mashu), Kushiro-shitsugen National Park (Kushiro Wetlands). Also see: Shirogane Blue Pond
How to get there:
Plane (about 90 minutes from Tokyo)
New Chitose Airport (near Sapporo)
Asahikawa Airport
Train (about 8 hours)
Shinkansen, with one transfer
Shinkansen Hayabusa: From Tokyo to Shin-Hakodate-Hokuto
Hokuto/Super Hokuto: From Shin-Hakodate-Hokuto to Sapporo
This trip costs about $300, so it is worthwhile to purchase a JR Pass if you are travelling by train.
Tōhoku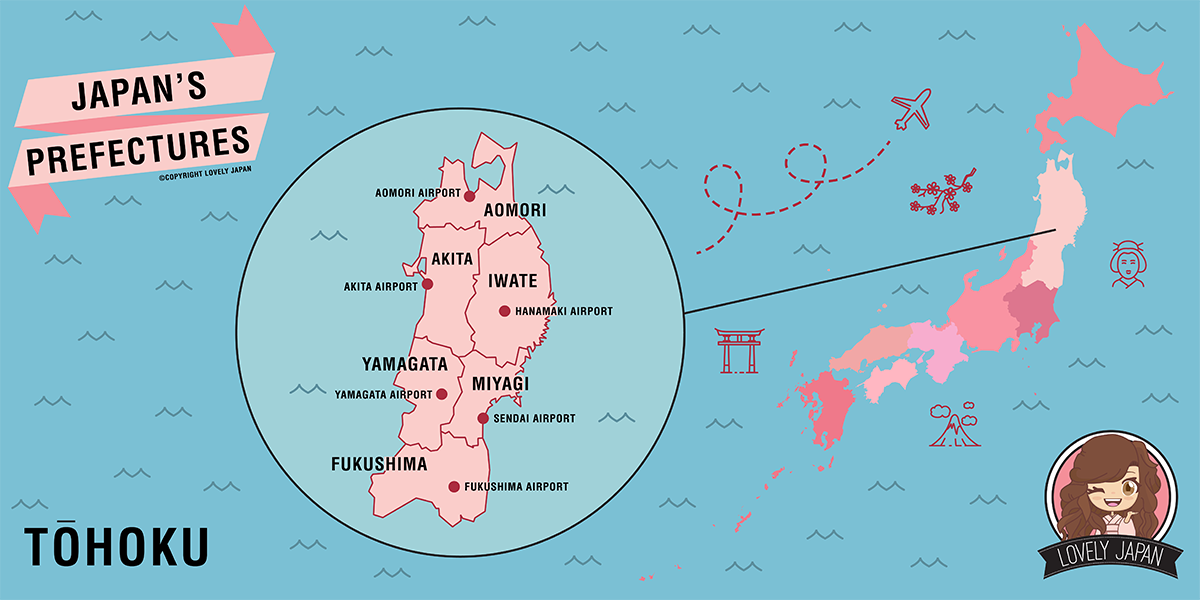 Famous for:
The picturesque countryside, mountains, lakes and hot springs. The Tōhoku region produces high-quality rice and experiences rough winters.
It has also recently suffered some of the most horrific events in Japan's history with the 2011 tsunami and earthquake, as well as Fukushima's Nuclear Disaster.
Weather:
Tōhoku is quite similar to Hokkaido in that it is generally cooler here than the rest of Japan. The east and west sides of Tōhoku are separated by the Ōu Mountains, causing the weather to be quite different from one side to the other. Snow falls heavily on the east side of the region, and summer is hotter (especially in the basin areas), whereas on the west side, the weather is fine in winter with little snowfall, while cold winds prevent high temperatures in summer. The temperature is also quite different from north to south, with a difference in average temperatures of about four degrees.
Best time to travel:
It is best to travel to Tōhoku in winter or spring.
Main City:
Sendai
Where to go:
Visit one of Japan's three most scenic views at Matsushima Bay, Miyagi
Stroll through an ancient samurai village at Bukeyashiki, Kakunodate, Akita
Visit one of Tōhoku's 135 onsens – especially Nyuto Onsen and Tsurunoyu Onsen
View the cherry blossoms at Hirosaki Castle, Aomori, or Aizu-wakamatsu Castlein Fukushima
Visit a UNESCO site – Shirakami Sanchi, Aomori. This national park includes an incredible mountain range
Attend the Nebuta Matsuri, a popular festival held over 5 days in early August
Explore Towada-Hachimantai National Park and visit Lake Towada
Explore the underground limestone cave, Ryūsendō
Take a relaxing river cruise down Geibi Gorge
Marvel at the incredible Konjikidō Golden Hall at Chūsonji temple
Visit Takkoku no Iawaya, a Buddhist temple built partially in the rock face of a cliff
How to get there:
Plane
Aomori airport
Akita Airport
Hanamaki Airport (Iwate)
Yamagata Airport
Sendai Airport
Fukushima Airport
Train
JR Tohoku Shinkansen
Travel from Tokyo to Sendai takes about 100 minutes by Shinkansen
Bus
Direct highway bus from Tokyo – takes 5.5 hours. One-way fares start at about $30
Willer Express
Japan Bus Online
Kosoku Bus
Kantō
Famous for:
Japan's capital city, Tokyo.
Weather:
The Kantō region experiences normal weather conditions during the seasons. In winter, daytime temperatures rarely drop below 10°C / 50°F, with very minimal snowfall. In summer, the region can be quite warm and humid with temperatures reaching 30°C / 86°F. From the beginning of June to mid-July, the Kantō region experiences the rainy season. It does not rain every day during this time, but it is worth trying to avoid when planning travel dates.
Best time to travel:
It is best to travel to Kantō in winter, autumn or spring.
Main City:
Tokyo
Where to go:
Explore the wonders of Tokyo – Harajuku and Takeshita Street, Shibuya Station and Crossing, Shinjuku, Roppongi, Akihabara, Ueno Park, Tokyo Imperial Palace, Tokyo Skytree, Yoyogi Park, Meiji Shrine, Golden Gai, Sanrio Puroland, Pokemon Centre
Escape the city and enjoy scenic views in Kanagawa – Hakone, Hakone Shine, the Great Buddha of Kamakura, Lake Ashinoko, Owakudani, Shonan Beach, Cosmo World, Three Shrines of Enoshima
Learn about the Japanese railway, arts and crafts and bonsai while exploring the outdoors in Saitama – Saitama Railway Museum, Omiya Bonsai Art Museum, Bonsai Village, Saitama Craft Centre
Visit stunning shrines and onsens in Gunma – Haruna Shrine, Myougi Shrine, Kusatsu Onsen, Minakami Onsen
Pick fruit and enjoy the flower parks in Tochigi – Ashikaga Flower Park, Ichikai-machi Shibazakura Park
Visit mountains and waterfalls in Ibaraki – Mount Tsukuba, Fukuroda Falls.
Experience the happiest place on earth in Chiba – Tokyo Disneyland and DisneySea
How to get there:
Plane
Narita Airport
Haneda Airport
Train
Tokyo Train + Subway lines
Chūbu
Famous for:
The Chūbu region includes two of the most iconic tourist sites in Japan; Mount Fuji and Chureito Pagoda.
Weather:
The weather in Chūbu is quite similar to Kantō; mild with humid summers.
Best time to travel:
It is best to travel to Chūbu in autumn or spring.
Main City:
Nagoya
Where to go:
Castles, castles and more castles – Nagoya Castle, Inuyama Castle, Gifu Castle, Kanazawa Castle, Zenko Ji Temple, Matsumoto Castle, Toyama Castle, Chureito Pagoda
Experience traditional Japan at Shirakawa and Takayama Folk Villages in Gifu
Experience beautiful scenic views at Hakusan National Park, the Okunoto Coast, and Echigo Tsumari
Drink tea with a geisha in the Chaya Districts of Kanazawa – Higashi Chaya District, Nichi and Kazuemacgi Chaya District
Hit the slopes and visit the snow monkeys – Yuzawa ski resort, Toyama's Alpine Route, Jigokudani Monkey Park, Yudanaka Onsen
Visit the most famous mountain in Japan and the stunning natural wonders that surround it – Mount Fuji and surrounding national parks, Hakone
How to get there:
Plane
Chubu Centrair International Airport
Matsumoto airport
Shizuoka Airport
Fukui Airport
Noto Airport
Toyama Airport
Train
JR Tokaido Shinkansen and Normal Trains
Bus
Direct highway bus from Tokyo – takes 5-6 hours. One-way fares start at about $30
Willer Express
Kosoku Bus
Kansai

Famous for:
Japan's "tradition" capital, Kyoto.
Weather:
The weather in Kansai is quite similar to Kantō; mild with humid summers.
Best time to travel:
The best time to visit Kanto is autumn or spring.
Main City:
Osaka
Where to go:
Travel back in time and enjoy the shrines, temples and natural wonders of Kyoto – Arashiyama, Kiyomizu-dera Temple, Fushimi Inari Taisha (Shrine), Kinkakuji (Golden Pavillion), the Kimono Forest, Kyoto Imperial Palace, Gion, the Philosopher's Path, Amanohashidate
Explore the food and shopping capital of Japan, Osaka – Dotonburi, Shinsekai, Osaka Castle, Universal Studios, Instant Ramen Museum
Meet a deer and visit Japan's biggest Buddha in Nara – Nara Deer Park, Todai-ji, Naramachi
Visit one of the ten largest cities in Japan, Kobe
How to get there:
Plane
Kansai International Airport
Osaka International Airport
Train
Shinkansen from Tokyo to Osaka – JR Tokaido Shinkansen
Local trains
Chūgoku

Famous for:
The Chūgoku region is home to Hiroshima, a city most well known for its destruction by an atomic bomb during WWII.
Weather:
The weather in Chūgoku is quite similar to Kantō; but also experiences strong winds in winter.
Best time to travel:
The best season to visit Chūgoku is in Spring.
Main City:
Hiroshima
Where to go:
Visit the site of the bombing and one of Japan's most iconic sites in Hiroshima & Mijajima – Hiroshima Peace Memorial, Itsukushima Shrine
Explore peaceful gardens – Shukkeien Garden, Korakuen,
Visit the castles of Chūgoku – Hiroshima Castle, Okayama Castle, Matsue Castle
Visit the historical city of Kurashiki
Experience the desert in Japan at the Tottori Sand Dunes
Take a scenic ocean drive along Tsunoshima Bridge
How to get there:
Plane
Hiroshima airport
Yamaguchi Abe airport
Train
Shikoku

Famous for:
The Shikoku Henro Pilgrimage.
Weather:
Shikoku also experiences mild temperatures, with humid summers, strong winds in winter and a fair amount of rainfall in the rainy season.
Best time to travel:
The best time to visit Shikoku is in spring, summer or autumn.
Main City:
Matsuyama
Where to go:
Experience enchanting whirlpools and thrilling rivers and valleys in the Tokushima prefecture – Naruto Whirlpools, Yoshino River, Iya Valley
Visit beautiful gardens, climb 1368 steps to visit a shrine and onsen, and leisurely ride your bike around Japan's 'art island' in Kagawa – Ritsurin Garden, Konpira Shrine and onsen, Naoshima Island
Experience beautiful castles, rivers, limestone caves and more in Kochi – Kochi Castle, Shimato River, Ryugado Cave
Visit the onsen that inspired Spirited Away's bathhouse in Ehime – Dogo Onsen
Visit 88 temples in 30-60 days by taking the Shikoku Henro Pilgrimage
How to get there:
Plane
Kochi Airport
Takamatsu Airport
Matsuyama Airport
Train
Shinkansen from Shin-Osaka Osaka to Okayama, then normal train from Okayama to Takamatsu
Bus
From Kansai Airport to Tokushima Eki Mae (Tokushima Station)
From Kansai Airport to Takamatsu Station
JR Bus from Umeda Station or Nanba Station to Tokushima
Kyūshū

Famous for:
Kyūshū is famous for its more tropical climate and stunning beaches.
Weather:
Kyūshū has a subtropical climate, therefore being warmer and more humid than other parts of Japan. The winters are mild and windy, whilst summers are hot and rainy.
Best time to travel:
The best time to visit Kyūshū is in spring, summer and autumn.
Main City:
Fukuoka
Where to go:
Enjoy the pristine beaches and stunning sites in Okinawa – including Nishihama Beach, Manzamou, Tadake Falls, Churaumi Aquarium, Gyokusendo Cave, Ashibinaa Outlet Mall, Makishi Public Market, Nakijin Castle, Furuzamami and Kondoi beaches, Ishigaki Island, Sunayama Beach, Kouri Island, Sesoko Island
Relax at Aoshima Beach and Takachiho Gorge in Miyazaki
Visit the Canal City, Hakata in Fukuoka
Travel to the onsen town of Beppu to see the Hells of Beppu in Oita
Explore the abandoned Hashima Island in Nagasaki
Visit the largest active volcano in Japan, Mount Aso in Kumamoto
How to get there:
Plane
Naha Airport
Miyazaki Airport
Kumamoto Aiport
Fukuoka Airport
Oita Airport
Train
Sanyo Shinkansen to Fukuoka/Kumamoto/Kagoshima
–
Which of Japan's regions do you plan to visit on your trip? Make sure to let me know in the comments below!
Pin post for later: