How to celebrate Christmas in Japan
Ahh Christmas. My favourite time of the year. From the food and presents to the decorations, parties and sparkly lights, what's not to love?
There's just something magical about Christmas that effortlessly captures our imaginations. If you're planning a winter trip to Japan and are worried about missing out, don't worry! The Christmas cheer is just as present in Japan as it is in the west.
However, don't expect Christmas in Japan to be the same as at home. While it may seem similar on the surface, Christmas in Japan misses a lot of the family-focused, religious messages that are at the core of the western celebration. Instead, Japanese people have done a fabulous job of making it their own, transforming it into a glorious mish-mash of western traditions, commercial exploitation and Japanese flair.
So let's take a look at what Christmas is really like in Japan and how you can embrace the festive season while you're there.
How is Christmas celebrated in Japan?
With a Christian population of just 1.5%, most of the religious context has been stripped from the Japanese version of Christmas. While in the west, Christmas is for spending time with family and New Year's is for partying with friends, in Japan, this dynamic is switched. As a result, Christmas in Japan is more about creating an atmosphere of happiness and celebration, commonly seen in the form of large public decorations, spectacular light installations (or illuminations, as Japanese people call them) and countless Christmas carols being played in department stores and being sung by choirs on the streets.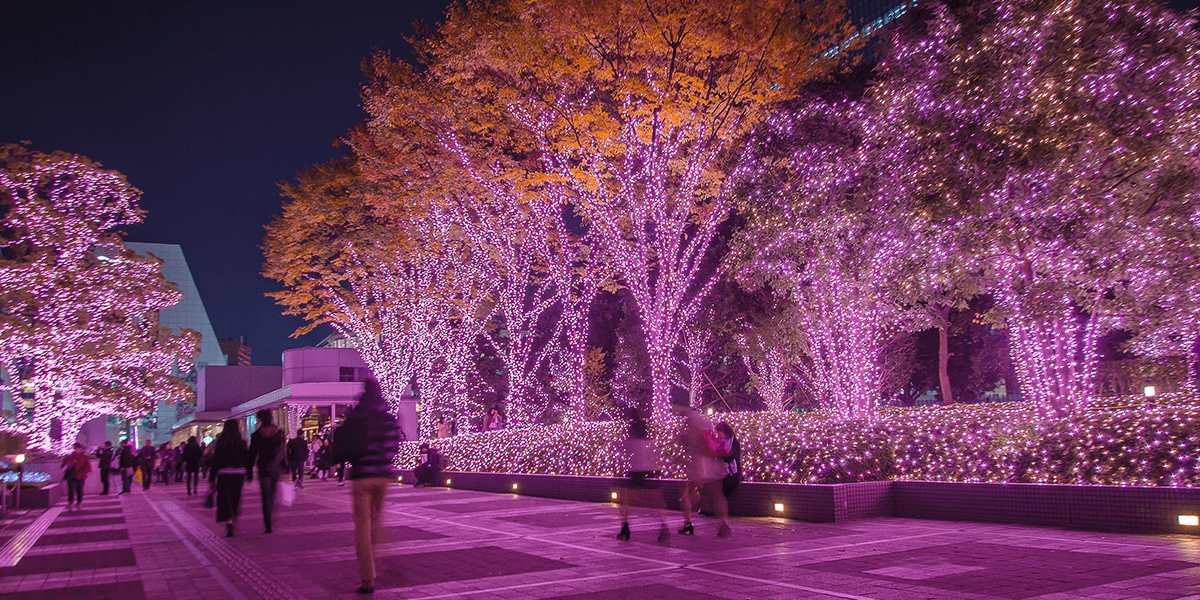 Christmas Illuminations in Shinjuku, Tokyo
While decorating homes for Christmas isn't really a thing in Japan, the businesses, shopping centres and main public areas go all out, transforming into a spectacular winter wonderland. Christmas trees, reindeer, snowmen and holly decorate the streets and light up when the sun goes down. Illuminations are a popular winter spectacle in Japan, with countless famous installations popping up in all major cities between November and March. Not all of these installations are Christmas themed, but walking through the stunning displays as you drink warm sake and cuddle a warm winter jacket is the perfect Christmas experience while you're in Japan.
Adding to the atmosphere are the Christmas carols that follow you around, just like they do at home. Department stores and public areas will play the traditional tunes and modern hits that you expect, with the added bonus of original Japanese Christmas songs to delight your ears. If you're lucky, you will also come across a choir singing Beethoven's Ninth Symphony and 'Ode to Joy' in German. The song was introduced to Japanese people by German prisoners of war in WWI and is now so popular in Japan, it is simply known as 'daiku", or "the ninth".
How do couples spend Christmas in Japan?
Even when compared to Valentines Day and White Day, Christmas Eve is arguably the most romantic day of the year. Most see it as an absolute disaster to be alone for Christmas Eve, so single people work hard to secure a partner in the weeks preceding December 24th. If unsuccessful, they will either stay indoors or venture out to the biggest clubs to find a partner for the night.
Couples and groups of friends usually spend Christmas Eve having dinner at a restaurant, exchanging gifts, going to parties, singing at karaoke bars and/or strolling along the public paths underneath the beautiful illuminations. It is extremely difficult to book a restaurant on Christmas Eve, so preparations need to be made weeks in advance.
How do families spend Christmas in Japan?
Even though Christmas Day is not a national holiday, schools will break off on December 23rd for the Emperor's birthday and will not start up again until after New Year's. The day is usually spent with parents going to work, or spending time with their family, before ending the day with a lovely dinner courtesy of Colonel Sanders. Gift giving is traditionally done on New Year's Day, so children may receive small gifts or treats, but not to the extent of what you would see in a western home.
What do Japanese people eat at Christmas?
Japan keeps it pretty simple when it comes to their festive foods. There are only two must have's for the day: Christmas cake and KFC.
A delicious slice of 'kurisumasu keki'!
Christmas cake, or "kurisumasu keki", in Japan is not the humble fruitcake so commonly seen in western households. It is actually the far more superior and superbly delicious strawberry shortcake. The cakes are layered with a soft vanilla sponge, sliced strawberries and whipped cream, before being topped with more whipped cream and super kawaii Christmas decorations. They are sold on almost every street in Japan during the Christmas season, so you will be hard pressed to miss out on trying some!
The Christmas shortcake began to rise in fame in 1910 when the Founder of the Fujiya confectionary company started to market the cake as a Christmas staple. After a visit to the US inspired him, he started to sell the cakes in department stores in Ginza to the upper class of Tokyo, where it began to become a common food associated with Christmas. The devastation of WWII temporarily put an end to this prosperity, as the economy suffered and halted the production of luxury goods.
The American occupation following WWII saw milk and butter come into the country, along with a surge of American influence in terms of culture, food and religion. Japan was eager to adopt and adapt these influences, causing not only the rise of the Christmas cake but of Christmas itself. In a time of healing and reconstruction, the cake became a symbol of happiness and was often shared with families and friends in moments of celebration.
Today, it is not only the most essential part of a Japanese Christmas meal, but it is also commemorated with not one, but two emojis! 🍰🎂
With dessert ordered and accounted for, it's time to think of dinner, and there is no other dinner you would have on Christmas Day other than KFC.

Part of KFC Japan's 2018 Christmas Menu (Image Credit: KFC Japan)
KFC opened in Japan in 1970 after receiving positive reactions from the Japanese public at a convention presenting American fast food. Its first manager, Takeshi Okawara, came up with the idea of a Christmas meal after hearing foreigners complaining how much they missed their traditional Christmas turkey. The small ovens in Japanese kitchens made it difficult to prepare such a dinner, thus resulting in the Christmas KFC dinner bucket. In 1974, the bucket was received with wild success after the 'Kentucky for Christmas!' (Kurisumasu ni wa kentakkii!) marketing campaign was launched.
Since then, KFC has forever been seen as the meal of choice for Christmas dinner. Each year, around 3.6 million people order KFC to enjoy on the 25th. It has become so popular that people need to order their Christmas bucket over 6 weeks in advance or suffer in line for hours on end on Christmas Day.
Where should I go to celebrate Christmas in Japan?
Although each city puts on a fantastic show for Christmas, Tokyo has the biggest variety of Christmas-themed attractions for you to enjoy. Countless illumination shows light up the city during this time, most notably in Tokyo Midtown (Roppongi Hills), Tokyo Station, Shinjuku Southern Terrace, Omotesando, Ginza and Odaiba.
The department stores, restaurants and public spaces also put on a dazzling show, meaning no matter where you choose to explore, you're bound to come across some kind of Christmas display to surprise and delight you.
Christmas decorations in Main Street USA, Tokyo Disneyland
Another fantastic benefit to being in Tokyo for Christmas is that you will be able to attend the Christmas celebrations at Tokyo Disneyland or Tokyo DisneySea. While the crowds will be extreme, it will be worth it for the sheer volume of Christmas magic and cheer Disney creates during the festive season. They spare no expense when it comes to decorating the park and putting on spectacular shows, allowing you to experience a Christmas themed sensory overload you will never forget. There are also many Christmas themed boutiques and stores to take advantage of, selling the cutest Disney themed baubles, mugs, stockings and more!
What is Christmas shopping like in Japan?
As gift-giving is not a popular Christmas past time in Japan, you will not find the amazing sales, terrible crowds and extended shopping hours that you would in the west. Typically, Japan's large holiday sales happen post-New Year's Day from around January 2.
You will, however, find fantastic stores and markets selling all your Christmas needs, including trees, ornaments, souvenirs, cards, gifts and more. There are many European-inspired Christmas markets to enjoy all over Japan, the most notable being Tokyo's Christmas Market in Hibiya Park, which is run by the German Embassy and the German Tourism Association each year. There's also a fantastic Christmas market in Sapporo. These markets hold similar items to their European counterparts and even serve German delicacies such as pretzels, mulled wine, sausages and fruitcake.
Does Japan shut down at all during the Christmas/New Year period?
Japan's holiday season begins from December 23 for the Emperor's birthday. 2018 will be the last year that this is the case, as Japan's new Emperor will take the throne in 2019. The holiday will therefore be moved to the new Emperor's birthday on February 23 from 2020.
Children often end school on the 23rd, with adults continuing to work until around the 29th. Unlike the west, businesses run on normal operational hours during this time, taking holidays from around December 29 until January 4.
—
I hope you have enjoyed reading about Christmas in Japan and that you have an incredible time celebrating while you are there! From the bottom of my heart, I wish you and your family a Merii Kurisumasu!
Pin post for later: